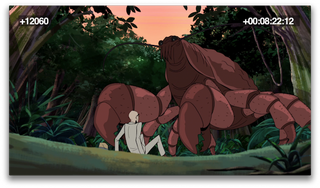 We won't get to see the Season 5 premiere of The Venture Bros. until March (at the earliest), but the AstroBase team has most of that season already in the can. To reward Venture fans for our grumbling patience, co-creator Jackson Publick has posted a ton of teaser images to his Tumblr and LiveJournal blogs. So what, aside from a kaiju crayfish, is ahead for Team Venture? Spoilers below.
Publick explains that the team decided to produce their one-hour premiere last, meaning that most of Season 5 has been completed. He's excited for the coming season, which will bring us some new characters as well as some very old familiar faces. It looks like we'll be seeing more of the original Team Venture, the return of the S.P.H.I.N.X. team to their OSI duds, and Hank and Dermott's band Shallow Gravy. It looks like there are plenty of monsters in queue, but will anything defeat that little sprout of facial hair Dean is still sporting?
You can see about half of the teaser images below, and take a gander at the rest (in their much larger glory) over at the Venture Bros. Blog.
Venture Bros. Season 5 Update with Teaser Images [Venture Bros. Blog via Boing Boing]