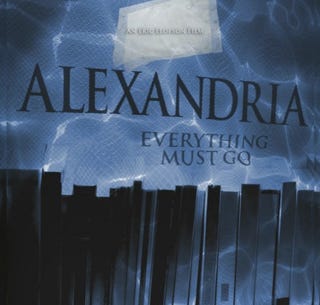 The world is ending, and you're stuck in a book store. At least that's the perspective from the film Alexandria. Take a look at an overlooked trailer for a fantastic short.
UPDATE: Apologies! We already covered Repeaters, the trailer is here, in case you missed it.
The Sorcerers
Here is an image from an upcoming remake of The Sorcerers, a British horror film from way back in the day about an older couple who figure out how to live through a young boy through mutual hypnotism. Wishbaby exec producer Jonathan Sothcott spoke with Dread Central and explained that actor Danny Dyer was going to be starring in the production (presumably as the puppet person) and that they will be filming in 2011. Here's a bit of the concept art.
More concept art over at Dread Central.
Alexandria
And finally a little trailer for the short Alexandria which we still haven't been lucky enough to screen — plus, this is the first time we're seeing the trailer. This quickie film, which screened at SXSW is about what happens in a little bookstore at the end of the world. Thanks to Quiet Earth for alerting us!
Here's the synopsis:
In the distant future, a bottle is found deep inside the rain forests of Southeast Asia. Its contents unlock the secret of what happened to three men in a bookstore at the end of civilization, and their attempt to live on.