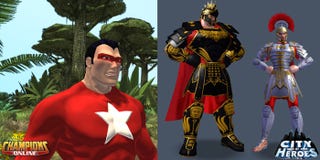 If you like playing superhero multiplayer games, you're pretty much living in a golden age. While venerable comic-book-themed MMORPG City of Heroes keeps cranking out new content, Champions Online is ramping up for a big release next year. We've got the goods on City of Heroes' latest time traveling-adventure and some data on the Champions character creation system.

Last week, NCSoft released "Issue 12," the latest batch of free content for City of Heroes/City of Villains. In addition to epic villain archetypes, a bunch of game tweaks and improvements that players have been asking for were rolled out. Both heroes and villains also gained access to two new areas of play: the Midnight Club is the hideout for a secretive group of heroes and features an interesting puzzle game that gives characters access to an in-game badge; Midnight Clubbers can time travel to a realm in ancient Rome called Cimerora, which results in some pretty awesome robot vs. centurion battle scenes.
The Champions Q&A revealed some of the difficulties designers are having adapting the pen and paper Champions RPG to an online game. Certain power types will be tied to certain archetypes. If you have a defensive archetype, you can still choose offensive powers, but they'll be more expensive than your defensive powers. It appears that powers will be customizable via advantages and limitations, but not right away at level one. And also, no fatties.
Randy Mosiondz: Scaling will allow you to make "chunky" characters, but nothing on a massive (Blob-level) scale.
Image by: NCSoft and Cryptic.
Champions Online Q&A Decoded. [Rock, Paper Shotgun]