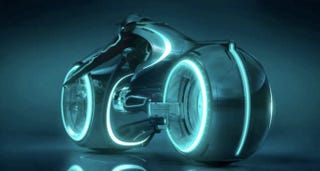 The original Tron was considered a failure in 1982 — and now, early tracking says Tron Legacy is on track to be another disappointment. The $200 million sequel could have a lackluster opening weekend. Plus check out two new featurettes.
The drumbeat of marketing for Tron Legacy has been ferocious for months now — among the geek crowd, the movie has been promoted at three successive San Diego Comic Cons, but there's also been tons of marketing to mainstream audiences who feel nostalgia for the original Tron. The assumption among industry-watchers has been that Tron Legacy would have a huge opening weekend, followed by a decent pair of legs.
But according to the Hollywood Reporter, the early tracking for Tron Legacy is looking weak — the movie could make as little as $35 million domestically in its opening weekend. To make back its lavish budget, the film needs to make well over $50 million in the U.S., just in its first weekend. Part of the problem: With just two weeks remaining until the movie's release, Disney is scrambling to find ways to garner more female interest in the film.
Bear in mind, though, that it's still too early to predict with any certainty. And THR did talk to one executive at a rival studio who said "he believes it would be wrong to sell Tron Legacy short just yet, suggested an opening of at least $50 million remains possible."
Could Tron Legacy be yet another example of a geek-friendly movie, based on a cult franchise, that doesn't quite manage to gain a wider audience? We'll find out in just a couple of weeks.
Meanwhile, here are a couple of new Tron Legacy featurettes that came out recently — one showing the making of the film and the other focusing on Jeff Bridges' digitally youthened alter ego, Clu: