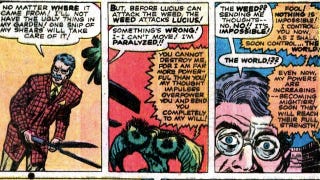 In 1962's Strange Tales #94, Stan Lee and Jack Kirby teamed up to create the short comic "SAVE ME FROM THE WEED!" In this tale, a weed is bombarded with radioactive dust and immediately conspires to take over the world.
It's absolutely brilliant in its simplicity. A weed becomes irradiated + bushy eyebrows that evince a diabolical intent + left-field psychic powers + a mildly idiotic twist ending = totally priceless.
It's definitely not the craziest project Jack Kirby's ever done. That honor would go to the never-built theme park he designed for the canned film version of Roger Zelzany's Lord of Light.
You can read "SAVE ME FROM THE WEED!" at Grantbridge Street.