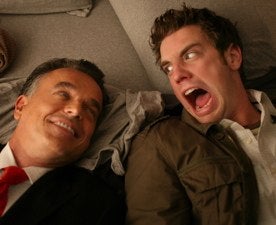 The CW's devilish TV show, Reaper, is starting to show signs of atrophy. News leaked out today that the show's producers have inked a deal with another studio, so is Reaper headed for the pit?
According to the trades, Michele Fazekas and Tara Butter are in a two-year deal with 20th Century Fox TV. So is it back to the salt mines for the good looking and sometimes funny cast? Most likely.
If Fazekas and Butter take this deal, they would have to leave Reaper for Fox, and seeing as no one else is stepping up to the plate, we're betting against Reaper. Under the seven-figure pact, the duo will join a Fox TV series and develop projects for the studio.