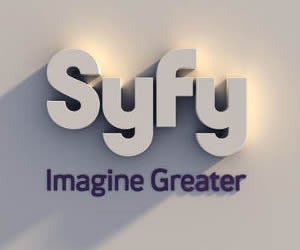 It's been months since Syfy changed its name, and now that the uproar has died down - and we've had a chance to see what Warehouse 13 and Stargate Universe are all about - we wonder: Was it worth it?
Variety reports on the fact that Warehouse 13, the show that became the flagship for the "new" Syfy, was the most successful show ever to appear on the network, with viewership rising throughout the first season, and quotes VP of programming for channel Mark Stern as suggesting that it showcases the future direction for the network:
We're looking for new summer series for next year — for something that would be more along the lines of a more traditional genre piece... We're [also] looking at a potential latenight show, a potential single-camera show, possibly animation. I think that on some level, we're always going to maintain a sense of entertainment and not get too dour.
I have to admit; with Warehouse 13, Eureka and the brand new (and hit) Stargate Universe as flagships, I think that the network's looking healthier and more interesting than it has in a long time, despite skepticism about the rebranding. So much so, in fact, that I'm more willing to entertain the idea of a Syfy late night show. But am I alone? You tell me: