Rumor has it Disney is struggling with their spin-off movie centered around the beloved bounty hunter Boba Fett. Which makes sense: how do you make Boba Fett the hero of a movie?
A collection of Star Wars fan sites are reporting about a "secret breakfast meeting" that was held among higher ups to discuss the struggling screenplay for the Boba Fett movie. Of course the actual existence of said breakfast meeting is still under debate, so take all this with a grain of salt.
Disney's plan was to launch a collection of Star Wars spin-offs and origin story films in between Star Wars: Episode VII, Star Wars Episode VIII, etc. But this alleged meeting has rumors swirling.
According to MakingStarWars.net, Lucasfilm wants to keep Boba Fett scary but he's also supposed to be the star (and hero) of his own movie. And they're not sure how to do that.
Earlier rumors connected Return of the Jedi writer Lawrence Kasdan with this script, so a meeting of higher-ups containing Kasdan (a long respected member of Lucasfilm) could make sense. Let's hope they get their act together. Disney isn't really lacking on movies about bad guys going good, Wreck-It-Ralph is a good example of a recent bad guy made good. Slashfilm points to Captain Jack Sparrow from the Pirates movies as a good example.
G/O Media may get a commission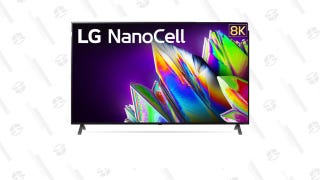 LG 75-Inch 8K TV
Everyone loves an anti-hero, but it is a difficult balance of darkness and light. Hopefully Disney figures it out, because we'd rather not have a Bobba Fett movie if it's going to turn the fan favorite into something else.