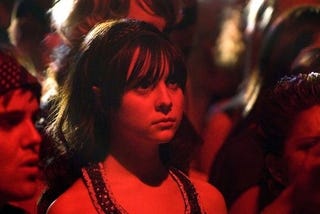 Is the Battlestar Galactica spin-off Caprica in trouble? One site reported over the weekend that the show is shutting down production due to concerns about the scripts — similar to what happened to the V reboot.
CinemaSpy asked whether Caprica was on the brink of cancellation, citing a "100 percent accurate" source:
A trusted industry insider informed CinemaSpy on Saturday that production faces suspension on Caprica due to serious script problems/shortfalls, and that the future of the series may well be in jeopardy. From what we've been told, the producers haven't been altogether happy with the caliber of the stories.
This would make Caprica the second new show this year to face a shutdown allegedly over script concerns. Last week, Entertainment Weekly's Michael Ausiello said the production shutdown at V was over script issues, and specifically over concerns about producer Jeff Bell (who'd been showrunner on Angel's final season.) Writes Ausiello:
Officially, Warner Bros. says it is taking "advantage of our November premiere to maximize creative opportunities and deliver the audience the best show possible." Unofficially, I hear the studio wasn't happy with the quality and the timeliness of the scripts show-runner Jeff Bell was delivering, so they bumped him to the No. 2 spot and put exec producer Scott Peters in charge. Too bad. I like Jeff Bell.
But this isn't the case with Caprica, insists showrunner Jane Espenson. She tells AirlockAlpha that any shutdown on the show's production is entirely due to athletes arriving for the 2010 Olympics and causing disruptions, not script problems:
I'm one of the producers and I'm absolutely thrilled with the work my writers have done... The Olympics might require a couple scheduling adjustments," Espenson said. "Those are probably being misunderstood.

Update: Syfy's Craig Engler draws our attention to his Tweet from the other day, in which he responded to a fan's question:
Q) Is Caprica on the verge of cancellation? A) Nope. Expecting ep 2 rough cut this week, premieres 1/22