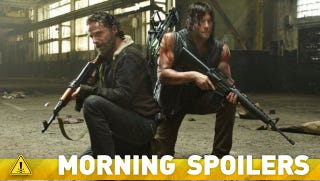 Morning Spoilers
If there's news about upcoming movies and television you're not supposed to know, you'll find it in here.
Robert Kirkman talks about the many different threats appearing in The Walking Dead season 5. And have we seen the first glimpse of the Flash's nemesis? Plus Walking Dead's surprising villain, what Agents of SHIELD's Simmons is up to, and American Horror Story. Spoilers now!
Top image: The Walking Dead
Star Wars
Now for a rumor that's not about Episode VII but about the standalone movies. This is that Lucasfilm is developing not one, but three Obi-Wan Kenobi movies that take place between III and IV. Not a trilogy, per se, but three movies featuring different Obi-Wan adventures. According to Cinelinx's source, the three plots are:
One set completely on Tatooine and two where Obi-Wan travels elsewhere in the Galaxy.

Qui-Gon Jinn is very much present in these stories. So too is Owen Lars. Several characters from the Clone Wars T.V show would make an appearance. There would be flashbacks to Obi-Wan fighting in the Clone Wars
[ Cinelinx via Comic Book Movie]
---
Vikingr
Universal has partnered with director Baltasar Kormákur for Vikingr, a Viking action drama. Kormákur wrote the story and co-wrote the screenplay with Ólafur Egill Egilsson. [The Hollywood Reporter]
---
Ombre Amore
Joe Dante ( Gremlins) is doing a Rome and Juliet-style werewolves and vampire movies set in underground Rome. The film is described as:
Pete is a werewolf whose pack is a crew of hotheaded financial traders responsible for Italy's current economic crisis. Maggie is a vampire whose family is a formerly wealthy aristocratic clan brought to bankruptcy by the greedy werewolves. Surrounded by other-worldly troubles, it remains to be seen whether or not their love can survive among the warring families.
---
Wolves
Here's the red band trailer for the werewolf horror film. [via First Showing]
---
The Hobbit: The Battle of the Five Armies
Here's the Galadriel poster. [ Coming Soon]
---
American Horror Story
Episode four is going to reveal why Twisty the Clown does what he does. Emma Roberts plays the love interest for Evan Peters' Jimmy, and Sarah Paulson's Dot. Matt Bomer's episode five appearance sounds like a doozy, with a seven-page "true horror scene" with Michael Chiklis and another major scene will Finn Wittrock. On set, Bomer described the whole thing as having a "demented Tennessee Williams" feel.
Finally, Ryan Murphy says that the title sequence holds clues revealing the rest of the season, including that the three-legged character might appear. [ TV Line]
Murphy also says that, even though Jessica Lange has said this is her last season, he still hopes to convince her to stay:
"This is her favorite season, without question," Murphy told reporters Tuesday. "I really want her to keep her hand in. Does that mean 13 episodes? Does that mean six? Does that mean one? She and I are probably going to have a dinner date when the holidays come."

"It always starts with a character for Jessica, so I think I'd have to present her with something she was very interested in," he explained. "Before, I was met with a really quick 'No.' Now, I'm hearing, 'Well, let's keep talking.' So I thought that was a very good sign. … I think if I presented her with the right character, and it could work with her schedule, she might be interested. … That's my hope."
[ TV Line]
Here's a featurette on Ben Woolf, who plays Meep:
---
Agents of SHIELD
Elizabeth Henstridge says that we'll see new strengths in Simmons as she continues being undercover:
This is where we see that actually she is quite a good liar these days. She's worked on her weaknesses and can turn them around to work for her. It's not that she's necessarily comfortable being undercover. It's a necessity that she wouldn't choose if she had to. She's worked at it, and the fact that everybody thinks she's a terrible liar is working for her at this point because they won't be suspecting that she's undercover or that she has ulterior motives. She's a smart cookie and she's figured out what her weaknesses are and figured out how to use them to her advantage.
She also hinted that there's a lot of danger that we should be watching for:
You should be worried. She's wanted to move up in Hydra and be in a position where she can provide more information. She's achieving that at the end of this episode. Whether she's fully realized it or not, that's going to come with an awful lot more danger and potential brain washing. She doesn't know exactly what it is that they've done to Donnie Gill, but she knows it's something mental that he can't control. She's now in a very dangerous situation, but she has Agent Coulson on her side, who knows that she's there, so it's not like she's alone.
Here's the promo for episode 2.04, "I Will Face My Enemy." [via Coming Soon]
---
The Walking Dead
Robert Kirkman said that season five is going to move fast, so don't think that Gareth is the main threat they're dealing with:
The only hint that I'll really give you is that there's a lot of ground covered in our first 8 episodes, so I would say without a doubt that Gareth is far from the only threat, quite possibly far from the biggest threat, and there's quite a bit on the horizon. I would just say more than any other season, we hit the ground running, and there's quite a bit going on with all of these characters. I think people are going to be pretty happy to be along for the ride.
He also addressed the couples of this season and alludes to the rumors about Daryl's sexuality:
There's certainly more couples. I wouldn't say that the entire group is starting to pair off, but there's been some hints. I think if you go back and watch season 4, you'll see some indication as to relationships that are forming here and there. Sadly, I would say that Daryl's situation remains somewhat ambiguous, or should I not say that?

You're just crushing the dreams of a lot of people.

That's a powder keg for my Twitter feed, I tell you. But yeah, a lot of romance this season. I'm going to regret answering that question.
More at the link. [ Entertainment Weekly]
---
Supernatural
Jeremy Carver addressed Jensen Ackles statement that Castiel's fading grace will be "addressed but not cured" this season:
It's absolutely a story point, certainly where he comes into the season and it drives many of the decisions he makes or does not make in terms of what he would need to do to replenish his grace that he's not quite willing to do. So [there's] the question of, "If his grace is fading out and he doesn't want to replenish it, how is this guy going to stay alive?" So that's part of the plot of the early going of the season, and then this, "How am I going to get my grace back?" is something that kicks in later on in the season as well. So it's very much there, but I think Jensen put it perfectly.
He also talked about Rowena:
We'll meet her early on and then we start to understand the power base that was taken away from her. The idea of witches and covens and grand covens start to come into play as we start to introduce some elements of old school witchery into the show.

That's exciting!

Yeah! We've always gone to it in certain ways but yeah, she's a very neat character who brings a really cool dynamic to the show.

So does that mean witchery will be a part of this year's "personal mythology"?

I mean yes and no. Yes in that the boys have to come up against it, but as of right now, not much more than that.
Here's a promo for episode 10.02, "Reichenbach." [via SpoilerTV]
---
Intruders
Here are some teasers from the SpoilerTV preview of the season finale:
- We see what really happened to BIX

- Jack uncovers something in "The building's" basement

- Qui Reverti. have many more people than Jack first anticipated.

- Jack creates a distraction , that ensures he gets one last chance.

- An unlikely alliance is made

- After recieving a gift , Jack makes a bold decision about his future

- Someone returns to their former self.
[ SpoilerTV]
---
Constantine
NBC has ordered three more scripts for Constantine. [Deadline]
---
The Flash
Here's a trailer for the season:
Here's new key art. [SpoilerTV]
A photo of Danielle Panabaker with some art from the show appears to reveal Reverse Flash/Professor Zoom. [Comic Boiz on Instagram]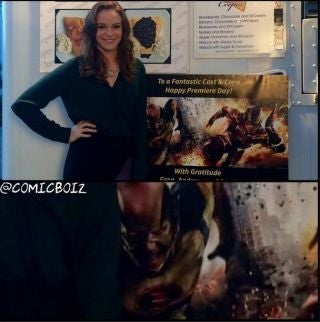 ---
Forever
Jane Seymour will guest star as Abe's twice-ex-wife, Maureen, who comes back and tries to rekindle their old magic. [Entertainment Weekly]
Go here for more photos from episode 1.06, "The Frustrating Thing About Psychopaths." [SpoilerTV]
---
Powers
Here's the New York Comic Con poster. [IGN]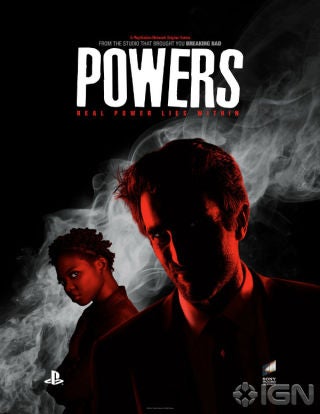 ---
Grimm
Head here for character photos for season 4. [SpoilerTV]
Additional reporting by Charlie Jane Anders and Abhimanyu Das