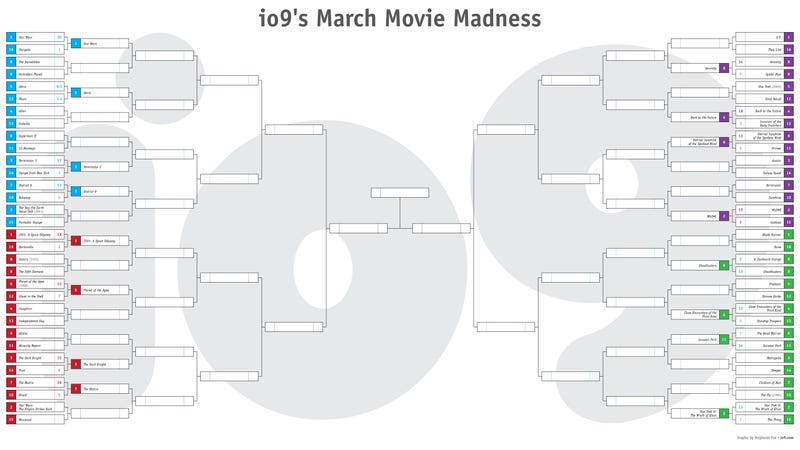 It's time to decide the remaining 32 movies that make up the first round of our March Movie Madness, pitting classic scifi movies against each other in a single-elimination tournament. Polls are open until 11 PM PST, so vote now!
We've got some seriously tough match-ups for you to decide, all of which you can vote on in the polls below. Blade Runner makes its long-awaited appearance, but can the combined force of Kyle McLaughlan, Sting, and David Lynch (alias Alan Smithee) launch a surprise upset bid with Dune? How will the lens flare bromance of J.J. Abrams's Star Trek fare against Arnold Schwarzenegger getting his ass to Mars in Total Recall? And what about Avatar vs. Galaxy Quest, which pits the most successful movie of all time with the only live-action Tim Allen movie that anyone ever wants to talk about? We leave it to the wisdom of you, the voters, to sort out the madness.
As for the first sixteen match-ups, the biggest upset was 11-seed Jurassic Park taking down the sixth-seeded Road Warrior - we think it goes without saying that the Lord Humungus is gravely disappointed. The tensest fight was in the 5/12 match-up between Akira and Moon, with the favored Akira squeaking by with just 50.26% of the vote. The biggest vote-getter in the first round was Star Wars, which received 20,155 votes in its opening round match against Barbarella. You can check out our updated bracket above for the results - all vote totals are rounded to the nearest thousand - and check out the original post for the complete results.
Here's a reminder of the tournament schedule:
March 18: First Round (part 2)
Monday, March 21 and Wednesday, March 23: Second Round
Friday, March 25: Sweet Sixteen
Monday, March 28: Elite Eight
Wednesday, March 30: Final Four
Friday, April 1: Final Four
Monday, April 4: Championship
VOTE RIGHT NOW For the movie you want to win. Polling ends at 11 PM (PST) tonight.
1. Blade Runner Vs. 16. Dune
1. E.T. Vs. 16. They Live
2. The Day the Earth Stood Still (1951) Vs. 15. Fantastic Voyage



2. Star Wars: The Empire Strikes Back Vs. 15. Nausicaä of the Valley of the Wind



3. Avatar Vs. 14. Galaxy Quest



3. Metropolis (1927) Vs. 14. Sleeper



4. Inception Vs. 13. Independence Day



4. Alien Vs. 13. Godzilla (1954)



5. Predator Vs. 12. Donnie Darko



5. Star Trek (2009) Vs. 12. Total Recall



6. Aliens Vs. 11. Minority Report



6. Superman II Vs. 11. Twelve Monkeys



7. Children of Men Vs. 10. The Fly (1986)



7. Terminator Vs. 10. Sunshine



8. The Incredibles Vs. 9. The Forbidden Planet



8. Solaris (1972) Vs. 9. The Fifth Element