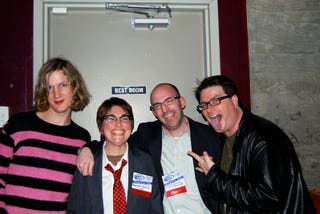 io9 and Last Gasp Press co-sponsored a benefit for the Comic Book Legal Defense Fund on Saturday night at WonderCon, and it was smashing. A ton of comic book artists came and drew at a table while we got drunk, and then CBLDF auctioned the art off to raise money for the fight for free speech in the comic book world. Here's a "before" picture of your intrepid editors (l-r that's Charlie Jane, Annalee, Graeme, and Kevin). Some after photos below.
Sadly nobody captured the moment when I was a little tanked up, walked up to Brian Posehn from the Sarah Silverman Program (he's also done a postapocalyptic comic book called The Last Christmas), and yelled, "Sarah Silverman Program ROCKS!!!" Bless his heart, Posehn just rolled his eyes instead of punching me.
You can see more photos here, by Alexis Barrera from Brain Eater Books.