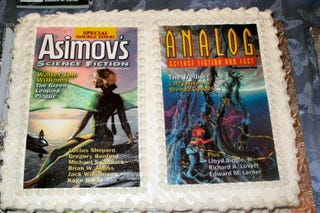 Last week was all about the best stories of 2014. This week is all about the places that publish them.
There are dozens—nay, scores of genre magazines out there. Some publish all speculative fiction, others concentrate on just one sub-genre (science fiction or horror!), some publish stories that fit into a very narrow type (fantasy adventure!), and others have even more of an agenda to push (progressive fiction by women!).
Top image: Magazine cover cake, via Locus Online
Of all the magazines you read, which do you like best? Tell me about the zines that are guaranteed to have a story you love every month, the ones you subscribe to so you don't miss any of the content, the ones you go to a physical newsstand to find because they are just that good.
I'll get you started with my favorites (which regular readers will probably not be surprised by):
Now show me yours.