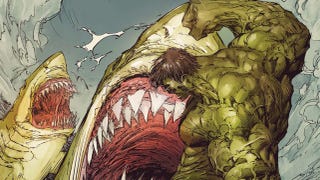 What's in your neighborhood comic shop tomorrow? Haunted cowboys, The Walking Dead, a whole lot of Bone, the adventures of Tintin's creator, fantastic 1800s flying machines from Warren Ellis, and enough Technicolor madness to make your corneas implode.
First Issues
IDW Publishing kicks off Tim Truman's new Weird Western Hawken (preview here) and the kaiju series Godzilla Legends. Truman's family history miniseries with John Ostrander — Superman: The Kents — is also being reprinted under the DC Comics Presents banner. There's also Paul Grist's Image series Mudman, which focuses on a hero with decidedly sordid superpowers.
Grab Bag
There are new issues of Scott Snyder's Batman, Jason Aaron's The Incredible Hulk (that's the Green Goliath versus some sharks above), Justice League, Wonder Woman (which had a major twist spoiled recently), iZombie, Morning Glories, The Walking Dead, Fear Itself #7.3 (which focuses on Iron Man), The Fearless, Greg Rucka's Punisher, The Boys: Butcher, Baker, Candlestickmaker, and Atomic Robo.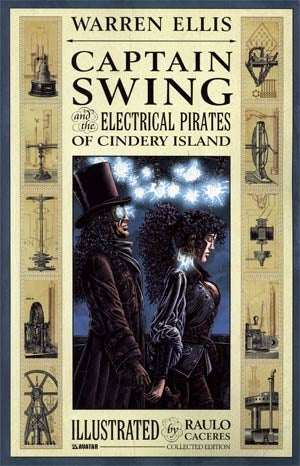 Graphic Novels
Dark Horse is reprinting the various Valve video game comics in one bookshelf anthology, The Sacrifice And Other Steam-Powered Stories, which feature artwork by Michael Avon Oeming. Batman: A Death In The Family is out if you want to see the Joker team up with Iran again, and the Batman And Robin: Batman vs Robin trade paperback harkens back to Grant Morrison's take on those of Bruce Wayne's sidekicks who weren't clobbered with crowbars.
On the Image Comics side of things, the wee supervillain school series Gladstone's School For World Conquerors is collected with its first trade paperback as is the second volume of Jim Zubkavich's grimy fantasy series Skullkickers. Brian Michael Bendis' Ultimate Comics: Doomsday saga is collected in one trade paperback. Fans of tally-ho retrofuturism should keep their eyes peeled for Warren Ellis' Captain Swing And The Electrical Pirates Of Cindery Island.
If you've got anywhere from $120 to $150 lying around, a color hardcover edition of the entire run of Jeff Smith's Bone is out. Finally, Drawn & Quarterly brings us Jose-Louis Bocquet and Jean-Luc Fromental's The Adventures of Hergé, a cartoon biography of Tintin's famed creator.
As usual, here's the list of everything being released to comic stores tomorrow, and you can find your nearest comic retailer here. Happy reading, gang!