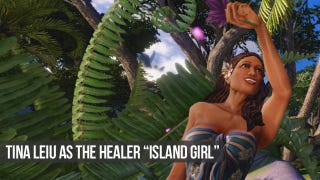 "Obviously, I can't bring people back to life," Jon Jacobs recently told me. Obviously.
It was morning when he told me that. He was on his way to work in Los Angeles, chatting with me on his cell phone. His wife, a singer named Cheri, was driving him to work that day. He and I were discussing his former fiancee, a lady named Tina Leiu and the best gaming pal Jacobs ever had.
Jon is a colorful guy, known to some as Neverdie and known by those same people as a "gaming celebrity." His life is full of moments of Jon Jacobs doing spectacular things, some of them chronicled in his book "The Book of Omens (The Magical True Adventures of a Self-Made Movie Star)", others performed digitally in online gaming worlds. There's usually something awesome going on in Jon's life, though what happened to Tina a half-decade ago was genuine tragedy.
Tina had gotten sick several years ago, badly. She was in and out of intensive care, seemed to bounce back but then passed away, in 2005. She left behind Jon, their son and loving parents. Jon grieved, pissed a few people off in the process (as is his habit), made headlines online (as is also his habit), raised his son, met and married Cheri, retired from one video game, launched another, and, last year, hatched an idea about Tina.
He was going to bring Tina back.
Read more via Kotaku.