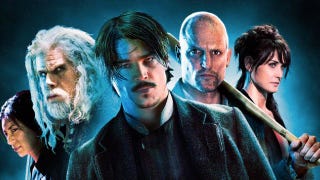 Check out five clips from the bizarre movie Bunraku, which looks like it was ripped from the womb of Frank Miller. Plus, the absolutely gorgeous scifi blaxploitation trailer Soul Man and a super-adorable alien janitor! All in this week's Cult Movie Worship.
Bunraku
No, Bunraku is not another Frank Miller flick. Quite the contrary — the buzz surrounding Guy Moshe's martial arts movie — which stars Josh Hartnett, Demi Moore, Woody Harrelson, Ron Perlman, Kevin McKidd, and Gackt — has actually been fairly positive.
This zany film — which appears to have been shot inside a Bazooka Joe bubble gum wrapper — takes place in a future where bullets have been outlawed. This means lots and lots of fist-fighting and bat-swinging. Plus, you've got Ron Perlman in dreads, which is pretty spectacular in of itself. Take a look at the clips now. Bunraku is currently playing in select theaters.
A mysterious drifter (Josh Hartnett) and an ardent young Japanese warrior on a mission both arrive in a town that is totally terrorized by outrageous and virulent criminals. Each obsessed with his separate mission; the two eventually join forces to bring down the corrupt and contemptuous reign of NICOLA, the awesomely evil "woodcutter." This classic tale is re-vitalized and re-imagined in an entirely fresh visual context, set in a unique world that mixes skewed reality with shadow-play fantasy, a place where even the landscape can betray you. Heroes triumph here only because the force of their will transforms and transcends both space and time. The world of BUNRAKU is past and present, fantasy and reality, Samurai and Western all combined. Resonating with any number of cultures, and showcasing a mind-blowing array of martial arts disciplines, Bunraku presents a totally fresh arena for breathtaking fight action.
Soul Man
Awesome. Awesome. Awesome. Awesome. We can not wait for Guillaume Ivernel's scifi blaxploitation flick Soul Man. Can. Not. Wait. The music, the look, the style, the hair, even the way the main character stands up is ridiculous perfection. Check out this brand new quickie teaser trailer set in a multi-touch world. What's the film about? We're not sure. But wherever the lady in the purple glasses goes, so shall we. We'll make sure to keep you all informed on release dates. Thanks for the tip, Jon!
Alien Repair Guy
Dead Snow, Troll Hunter, and now this amazing alien janitor short? The fine folk of Norway are quickly becoming one of my favorite suppliers of excellent science fiction. Check out Alien Repair Guy, the latest bit of genre awesome from directing duo Alexander Somma and Øystein Moe (who work under the name Helmet). The short is exactly as it sounds, an alien comes to Earth to fix a problem. But the clip below is absolutely astounding. It's simply gorgeous, watch.
A clever and amusing Sci-Fi story that reveals who is really controlling us – and the things that happen over our heads. Careless and ignorant road workers have destroyed Earth's control box, so the entire world grinds to a halt. An alien janitor arrives in Trondheim for a seemingly routine repair job. But he accidentally discovers a hidden control panel and the temptation is irresistible – with strange consequences.
For more stills and images head over to Twitch.
Tape 407
This new found footage feature is one part Lost, two parts Jurassic Park (or really a little more like Lost World). Survivors of a crashed flight finds themselves stranded on an island full of blood-thirsty government experiments that lay eggs and have snouts like a raptor. This flick is directed by Dale Fabrigar and Everette Wallin.
One of Hollywood's most terrifying new films, Tape 407, features footage that feels too real for reality and too disturbing for fiction. The film opens with two teenagers flying from New York to Los Angeles on New Years Eve. Their nightmare begins when their plane hits extreme turbulence mid-flight. The relentless weather attack causes panic and terror amongst the passengers until the plane ultimately crashes in a remote government-testing area. The handful of survivors from the crash, bloody and disoriented, are then insistently pursued in the darkness by unknown predators that, unbeknownst to them, are part of the government's top-secret Mesa Experiment. The film will take moviegoers on a whirlwind ride, with a twist ending that will leave you breathless, shocked, and terrified.