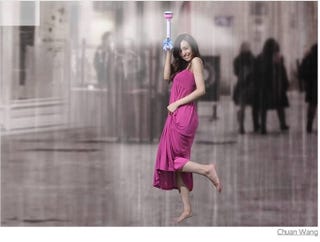 Umbrella technology innovation has really ground to a halt these past few hundred years, but luckily some inventors in Beijing and Nanjing have come up with an umbrella for the twenty-first century. It uses a high-powered fan to blow water up to three feet away from you.
Called the Air Umbrella, it has the advantage of looking startlingly similar to the Hitachi Magic Wand, so you can fool your friends into thinking you're going out into the rain with your favorite vibrator.
Apparently Air Umbrella is also rather unfriendly in crowds. After all, the powerful air flow coming out of the top is shooting water three feet away — and into the faces of other pedestrians. But that's OK. According to John Metcalfe at Atlantic's City Lab, the inventors say, "If nearby pedestrians do not take umbrella... they will be affected more or less, but they will get wet in a rainy day if not taking umbrella anyway."
Read more at City Lab