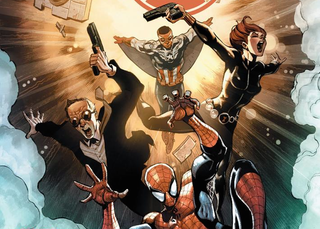 The characters of Agents of SHIELD will join the Marvel comic book universe on December 31st, in the first issue of S.H.I.E.L.D. And the variant covers have the team meeting everyone. Yes, including Deadpool.
The comic book isn't a tie-in, it's the comic versions of the Agents of SHIELD characters showing up as canon immigrants — brought into the original Marvel medium from the live-action one. Here's how the comic is described:
High-tech weapons. High-stakes missions. High-octane adventure! For the men and women of S.H.I.E.L.D., it's just another day in the field!

Special Agent Phil Coulson brings together the best and the brightest, the gifted and the elite, normal people and superhumans from across the Marvel Universe on an as-needed basis to confront, combat and curtail dangers beyond the scope of any conventional peace-keeping force!

Writer Mark Waid (DAREDEVIL) and a rotating crew of mission-specific top flight Marvel artists make you one promise: Every issue: Twenty pages. One mission. Unlimited budget. Unlimited imagination. Six periods. And a helper monkey. Welcome to Level Eight. Welcome to S.H.I.E.L.D.
In a number of the variant covers for S.H.I.E.L.D., we see them taking advantage of the fact that they do not face the restrictions the show does:
And here are some preview pages, more at Comic Book Resources:
[via Blastr]