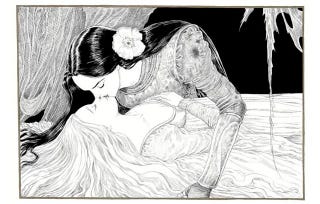 Neil Gaiman's upcoming children's book, The Sleeper and the Spindle, is a richly illustrated collaboration with artist Chris Riddell that retells the story of Sleeping Beauty. But this time the princess is rescued not by a prince's kiss, but by a queen's.
Here's a description of the book, due out October 23rd, from Amazon:
A thrillingly reimagined fairy tale from the truly magical combination of author Neil Gaiman and illustrator Chris Riddell - weaving together a sort-of Snow White and an almost Sleeping Beauty with a thread of dark magic, which will hold readers spellbound from start to finish.
On the eve of her wedding, a young queen sets out to rescue a princess from an enchantment. She casts aside her fine wedding clothes, takes her chain mail and her sword and follows her brave dwarf retainers into the tunnels under the mountain towards the sleeping kingdom. This queen will decide her own future - and the princess who needs rescuing is not quite what she seems. Twisting together the familiar and the new, this perfectly delicious, captivating and darkly funny tale shows its creators at the peak of their talents.
And, as we can see in the image above, part of that rescue involves a kiss. And while it's not a love story between the two women, a representative from Bloomsbury, the book's publisher, told Gay Star News, "While it is not a gay story in itself there is much to be said about having a female kiss not only described but illustrated in a book for young readers."
New Neil Gaiman book for children features a princess being woken by a kiss from a queen [Gay Star News via The Mary Sue]