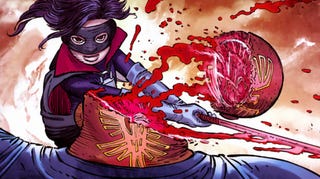 Looking to break into the comic biz? Kick-Ass scribe Mark Millar is looking for one-page scifi comic stories to accompany his upcoming project.
On his Millarworld forums, Millar recently posted this want ad under the title "MILLAR LOOKING FOR ONE-PAGE SCI FI AND HUMOUR STRIPS AND I'M WILLING TO PAY!!":
Okay, I have something pretty damn awesome coming up and it will involve two regular one-page gigs for a writer/ artist. Please do not post here unless there is art AND script in your sample. It also can't be more than one page. Any more than one page and the post gets deleted so it doesn't clutter things up. But basically if you're really good and want published and can show me something funny or smart in one page then you might get this paid monthly gig. It'll be a regular gig, pay pretty well, get printed and be an amazing showcase for your talents. I don't want anything pretentious. Just smart and funny and MAINSTREAM, like those old Future Shocks used to be funny.

But this is a great opportunity and part of something huge you'll hear about in the next two or three weeks.
The "Future Shocks" Millar is referring to is the short comics feature that's been a stalwart of the 2000 AD line - writers such as Alan Moore and Grant Morrison got their start penning Future Shocks. Millar also noted that this opportunity is "first come first served," so you better get cracking now.
And if anyone needs me for the rest of the afternoon, I'll be busy penning my own submission, Bloktopus and his O-mazing Orthogonal Orifice.
[via Robot 6]