I know: You're sick of comics after last weekend's Wondercon coverage. Who can blame you? If it wasn't comics this, it was comics that, and after three days of that, who'd want to read about the comics shipping to stores tomorrow? There may be Bastards that Krash and Doctors called Who, but it's just even more comics, right? That's why I'm going to start off by telling you about the greatest non-comic item that you might find in your local comic book store on Wednesday. See? Now you're tempted.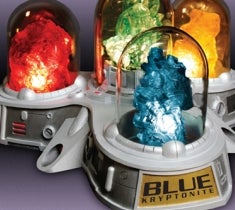 If you're looking for the best way to spend $250 (plus tax) in one sitting this Wednesday, then I have five words for you: Multi-Colored Kryptonite Replica Display. This weird statue of geek genius from DC Comics — packaged, according to the advertising copy, "in an upscale box" — gives you the chance to play Lex Luthor, with four different variations on Superman's least favorite rock: Red (which causes random effects), Gold (which removes superpowers), Blue (which only hurts Bizarro clones of Superman) and good old original flavor Green (which kills Superman). It also comes with a "guide to the Justice League of America Trophy Room" booklet, written by New York Times-bestselling author Brad Meltzer, which, you know, is a somewhat surreal sentence when you stop to think about it. But I think you'll agree: It may not be a comic, but this really might be the one "must have" item in comic stores tomorrow.
Then again, that title may go to Krash Bastards, a quasi-manga title from Image by Ben 10 co-creator Joe Casey and artist Axel 13. Describing the book as "a super sci-fi blast of kinetic action and widescreen adventure," Casey's story revolves around a group of hard-partying fightin' nomads and their struggle against someone that calls himself "the scourge of twelve realities." Those who enjoy violence, giant monsters and teenage rebellion may want to find themselves inexplicably drawn to this book.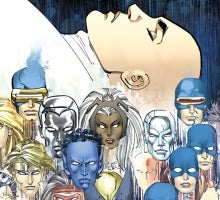 Elsewhere, it's all about the collections; DC puts out the paperback version of their Infinite Crisis series, with reality-altering punches and multiple Earths fading in and out of existence.
And Marvel fights back, with a hardcover version of Onslaught Reborn, an appallingly bad, but strangely enjoyable, 1990s flashback courtesy of Heroes executive producer Jeph Loeb and controversial artist Rob Liefeld. Marvel also releases X-Men: Legacy #208, the first issue of the new status quo called "living inside of Professor Xavier's head when he's in a coma," which isn't the most expected direction, you have to admit.

That said, maybe the most eagerly-awaited book of the week is IDW's Doctor Who #1, and not only because it's weeks late by this point. IDW have become known as the sci-fi franchise haven by this point, with series based on Transformers, Star Trek and Joss Whedon's Angel under their belt, but this new series written by the TV show's script editor Gary Russell promises stories of a scale that the BBC can't quite afford just yet. Sonic screwdrivers are optional.
As always, you can check off your own shopping list here, and find out where your closest comic book store is here. Just remember to save up all your pennies and buy some kryptonite while you still can.