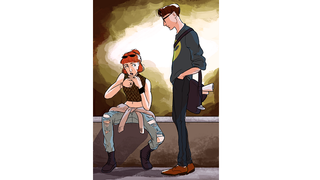 Artist Jena Young captioned this "Hey Scully, wanna break into the dean's office?" And the answer is probably a long-suffering "Yes." Followed by Mulder getting caught and Scully having to bail him out. What's the college equivalent of dropping your gun?
This piece also reminds me that Gillian Anderson was voted "Most Likely to Get Arrested" in school.
You can get prints of Jena Young's work at Society6.