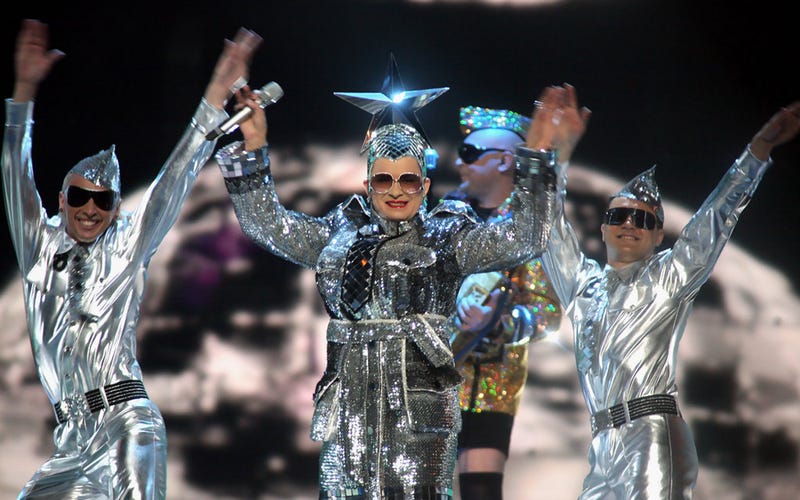 As an American outsider looking in, Eurovision looks like a demented alien celebration. In a competition where normal pop numbers have WTF backup dancers and over-the-top melodrama, it takes a truly special performance to stand out. Here are a few of the most jaw-dropping insane acts from Eurovision Song Contest history.
For anyone unfamiliar with the Eurovision Song Contest — which recently concluded for 2013 — it's a yearly song competition and spectacle that features competitors from "European" countries. The definition of European is a little fast and loose, with participants who aren't exactly from the continent of Europe — like Israel and Russia. It is kind of a giant international American Idol, but with far more silver lamé and decades of political baggage.
Each country has regional competitions and chooses the act that will represent it in the big international show. Yes, each of the insane acts below won over a wide pool of competitors and was purposely chosen as the representative of their country. This adds a whole other layer of WTF that begs the question of what the losing regional acts looked like (see honorable mentions).
Here are a few moments from the history of Eurovision that delight and confuse.
Cezar. "It's My Life" (Romania) 2013
This year's Eurovision is a good place to start diving into insane Eurovision performances. The mostly naked back up dancers and pyro technics are par for the course. What really elevates this performance is the Dracula costume, operatic singing and the sudden levitation.
Farid Mammadov. "Hold Me" (Azerbaijan) 2013
Performing a ballad as a duet with your alternate-universe shadow-self is pretty awesome.
Elnur & Samir. "Day After Day" (Azerbaijan) 2008
Azerbaijan is really into duality — as witnessed by this Devil and Angel showdown. Major points for over-the-top costumes and wailing.
Verka Serdyuchka. "Dancing Lasha Tumbai" (Ukraine) 2007
I dare you not to jump around in time with these silver lamé wearing Nazis. Verka Serdyuchka is a character of comedian Andriy Mykhailovych Danylko and is intentionally an over-the-top comedic performance. The catchy song won second place in 2007.
Pirates of the Sea. "Wolves of the Sea" (Latvia) 2008
A song about pirates, sung by people dressed like pirates. Warning: There is pirate voguing.
Dschinghis Khan. "Genghis Khan" (West Germany) 1979
This act features a disco Gengis Khan, and costumes that look like they inspired the Flash Gordon movie.
Dustin the Turkey. "Irelande Douze Pointe" (Ireland) 2008
And then there was the year Ireland sent a Turkey puppet to compete. Apparently Dustin the Turkey is a "television Presenter" for Irish channel RTE, and has several singles out.
Buranovskiye Babushki. "Party For Everybody" (Russia) 2012
Last year, Russia sent a lot of out-of-tune grannies to compete.
Krassimir Avramo. "Illusion" (Bulgaria) 2009
I dare you to figure out what is going on in this performance. The disco-clad backup singers seem to be in a competition to outdo each other — and the shiny medieval garbed, falsetto singing male lead. Then some guys on stilts show up. Some of it is referencing the equally amazing promo video for the song:
Michalis Rakintzis. "S.A.G.A.P.O." (Greece) 2002
Greeks in futuristic riot gear stomping about and singing about passwords.
Urban Trad. "Sanomi" (Belgium) 2003
The song isn't bad and the performance is nothing showy — but the lyrics are in a made-up language.
Jedward. "Waterline" (Ireland) 2012
The song is an inoffensive pop ditty unremarkable on its own, but the twin singers wearing matching Martian knight costumes are hypnotic and insanely out of place.
Lordi. "Hard Rock Hallelujah" (Finland) 2006
The best way to close out this list is with the 2006 Eurovision winners Lordi. These metal demons rocked out the venue in Athens. Their official promo video also looks like a really awesome Buffy episode:
Honorable Mentions:
Winny Puhh. "Meiecundimees üks Korsakov läks eile Lätti" (Estonia) 2013
This group didn't actually make it to Eurovision. They failed to win Estonia's representation, but the werewolf punk rock wrestlers should not be ignored. Also, the drum kit hangs from the ceiling.
Zlad. "Elektronik – Supersonik" (Molvania)
Molvania is not a real country — but their Eurovision entry is pretty convincing.
Miss one of your favorites? Please share — there can't be enough Eurovision insanity. There really needs to be a Worldvision competition so Japan and Korea can get into the act.