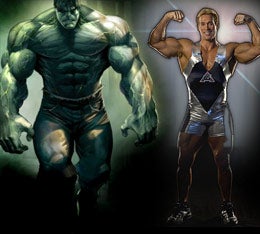 I'm not saying that the makers of the new Incredible Hulk movie are getting desperate, but when one of your big PR pluses is getting Lou Ferrigno to show up on American Gladiators, you may want to rethink your strategy. Ferrigno, who has a cameo in the new Hulk - hopefully not as a security guard working with Stan Lee - will team up with Gladiators host Hulk Hogan on the June 9th episode of the show.
Admit it: you can imagine the "Hulk versus Hulk" trailers on NBC right now, can't you? And they're not just going to stop with premiering a brand-new 60-second clip from the movie in order to remind people that there's more to Marvel's summer movies than Iron Man. Says Hollywood Reporter:
For the episode, the show's Los Angeles Sports Arena will be revamped with Hulk theming. About 1,000 pairs of Hulk Hands will be given to audience members to wear throughout the episode, and some also will wear Hulk masks. Gladiators will likewise use Hulk Hands while competing in the Gauntlet.

The arena's water will look green. Titan will be green. There will be green lighting, green graphics, green balls for Powerball. Pretty much everything will be green.
And then fans can go and pick up a copy of the current Hulk comic where he's... red.
Wait, that can't be right.
Nonetheless, such gamma-powered overkill suggests that NBC/Universal may be worried that fans still don't know about the reboot Hulk franchise, and with the movie coming out in just over two weeks, that's got to be making some people very nervous indeed. Nervous enough to give away 2000 Hulk Hands, in fact.
American Gladiators Hulks up [Hollywood Reporter]