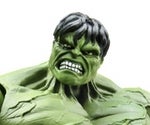 With images of this summer's Incredible Hulk movie still few and far between — especially compared to Marvel's other summer movie, Iron Man — you may have been wondering what to expect from the Edward Norton-scripted and -starring vehicle. Luckily, two different toy fairs featured some Hulk paraphernalia that give a pretty good idea of just what we'll be getting.
For one thing, the Hulk will kick some GI Joe ass!


And then he'll punch the ground!


Then he'll... Actually, I have no idea what he's doing here. Are those weird boomarangs or something?


Yeah, that's showing that girder, Hulk!


So now we know: The movie Hulk will be fighting the military, doing some kind of extreme boomarang thing and then causing some collateral damage. He'll also, if these toys from the New York Toy Fair are in any way accurate, be very, very veiny indeed. [Marvelous News.com]
Meanwhile, a toy fair somewhere in Europe featured a giant statue of the new Hulk, as part of a Hulk display. In one photo, he seems to be attacking a display of Hulk shoes. Since the Hulk never wears shoes, that would be a weird product tie-in.
[Helios_C7, via FilmSchoolRejects]