Now that we've seen some of the fancy ways BluRay can enhance Watchmen, what does the next Harry Potter DVD have in store for us? Also, there are possible release dates for the final Potter movies.
At the Potter press conference, producer David Heyman and director David Yates filled us in on what we have to look forward to. Before the release in autumn 2010 of Harry Potter and the Deathly Hallows Part 1, with Part 2 coming in the summer of 2011 (at least that's what the producers said they had planned for right now).
Says Heyman: One of the things that's going to be on BluRay is that we've created some additional material in regard to the kids taking you around certain departments [behind the scenes], and interviewing people in those departments. Photographers and editing and [editor] Mark Day talking about [his work]. And that's in the 6th Blu-Ray. And other such things.
Adds David Yates: One of the things we've included I'm sure it will be on the DVD and Blu-Ray, we had all these photographs of [Horace] Slughorn taken for the movie. You know the photographs in Hogwarts move and Jim Broadbent who is a very gifted comedian as well as an actor did all these improvisations for us. We cut them together in a montage which is really fun and entertaining.
G/O Media may get a commission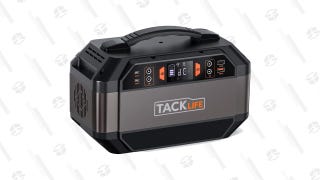 Tacklife Portable Solar Generator
Harry Potter will be in theaters July 15th while the DVD is rumored to be out December 7th.