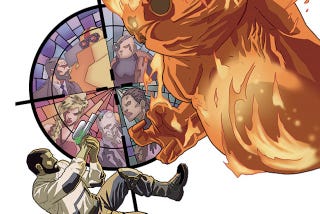 When angels, demons, myths and monsters attack humanity, our only defense is S.H.O.O.T. These protectors use their disbelief in what they're fighting — as filtered through seriously high-tech weaponry — to battle the supernatural in Dark Horse's S.H.O.O.T. First! #1. Also, it has a robot arm-wrestling a demon.
In full disclosure, the writer, Justin Aclin, is a pal of mine. But 1) I don't owe him any money and 2) I'm pretty sure I'd be interested in a story that explores the relationship between atheism and faith in the modern world through a funny, action-packed scifi comic even if I didn't know him.
---
New Issues
Dark Horse:
• SHOOT First #1: Official summary: "The Secular Humanist Occult Obliteration Taskforce-defending humanity from angels, demons, and a bunch of other crap S.H.O.O.T. doesn't believe in."
• Bloodhound: Crowbar Medicine #1: Clev makes a deal with the FBI to track down a rogue superhuman and a mad scientist.
• Other releases: Batimore: The Infernal Train #2, BPRD: Hell on Earth #112, Brain Boy #2, Buzzkill #2, Conan the Barbarian #21, Strain: The Fall #4.
DC:
• Forever Evil: Rogues Rebellion #1: The Flash's foes decide to rebel against the Crime Syndicate.
• Trinity of Sin: Pandora #4: Pandora decides to kill the Seven Deadly Sins.
• Justice League of America #8: Martian Manhunter and Stargirl try to figure out where they are and how to get out.
• Other releases: 100 Bullets: Brother Lono #5, Ame Comi Girl #8, Animal Man #24, Batman '66 #4, Batman and Two-Face #24, Batman Beyond Universe #3, Batman/Superman #4, Batwoman #24, Birds of Prey #24, Fables #134, Forever Evil #1: Director's Cut, Green Lantern: New Guardians #24, He-Man and the Masters of the Universe #7, Legends of the Dark Knight #13, Red Hood and the Outlaws #24, Supergirl #24, Vibe #8, Wonder Woman #24.
IDW:
• Star Trek: Khan #1: The origin of nu-Trek's newest nemesis, including his time in the Eugenics Wars.
• GI Joe: A Real American Hero #195: The Joes must rescue a teammate, held captive by a group of rebels in Sierra Gordo.
• Other releases: Transformers: More Than Meets the Eye #22, The X-Files Season 10 #5.
Image:
• Nowhere Men #6: Super-vague official summary: "Thinking the unthinkable."
• Morning Glories #33: Even vaguer official summary: "Distance."
• Other releases: Bushido #3, Invincible #106, Sheltered #4, Thief of Thieves #17, Whispers #6, Zero #2.
Marvel:
• Guardians of the Galaxy #7: When Angela joining the team, the Guardians find themselves at a crossroads.
• Hunger #4: "The death throes of a universe."
• Indestructible Hulk Special #1: Bruce Banner, the Superior Spider-Man and the X-Men solve the mystery of the new Doc Ock.
• Other releases: A Plus X #13, Avengers #21, Avengers Assemble #20, Cable and X-Force #15, Fantastic Four #13, Hawkeye #13, New Avengers #11, Superior Spider-Man #19, Uncanny X-Men #13, Wolverine Max #12, X-Men: Legacy #18.
Other:
• Imagine Agents #1: Dave and Terry keep kids' imaginary friends in line, but six-­year-­old Elliot and his best bear-­friend, Furdlgurr, are going to change the game.
• Trish Out of Water #1: Trish Powell discovers her entire life — including her body — is a lie.
• Other releases: Adventure Time #21, Bloodshot & Hard Corps #15, Critter #15: Crossed Badlands #29, Dark Shadows #21, Dejah Thoris & and the Green Men of Mars #7, Devil's Dog #1, Extinction Parade #3, Grimm Fairy Tales: Robyn Hood: Wanted #5, Gold Digger #204, Grimm #6, Hellraiser: Dark Watch #9, In Crowd #3, Jennifer Blood #32, King's Watch #2, Letter 44 #1, Liberator #4, Mercy Spark #2, Mysterious Strangers #5, Regular Show #10, Sergio Aragones' Funnies, The Shadow #18, The Shadow/Green Hornet: Dark Nights #4, Simpsons Comics #206, Six-Gun Gorilla #5, The Sixth Gun #35, Skyward #3, The Spider Annual 2013, Tomorrowland #4, Warlords of Mars: Dejah Thoris #30, X-O Manowar #18.
---
Trade Paperbacks and Hardcovers
Dark Horse:
• The Black Beetle Vol. 1: No Way Out: The Black Beetle hunts for a man named Labyrinto, who's killing Colt City's mobsters.
DC:
• Joker: Death of the Family: The Joker returns, determined to remove all of Batman's "obstacles" — namely, Robin, Nightwing, Batgirl, and Red Hood. Collecting all "Death of the Family" tie-ins.
• Sandman: Endless Nights: A new edition of the classic collection of tales about the Endless.
• Green Lantern Vol. 3: The End: Hal Jordan and the Green Lantern Corps fight the First Lantern in Geoff Johns' final GL adventure.
• Other releases: Catwoman Vol. 3: Death of the Family, Green Lantern Vol. 2: Revenge of Black Hand, Smallville Season 11 Vol. 3: Haunted, Superman: Dark Knight Over Metropolis.
IDW:
• Transformers Prime: Beast Hunters Vol. 1: Here's what the Dinobots have been doing the last few millennia.
• Other releases: TMNT Works Vol. 2, The X-Files Classics Vol. 2.
Image:
• 68 Vol. 3: Jungle Jim: A gasmask-wearing soldiers stalks the living and the living dead in the war-torn jungles of Vietnam.
• Other releases: The Art of Charlie Adlard, Mind the Gap Vol. 3: Out of Bodies.
Marvel:
• Marvel Zombies Complete Collection Vol. 1: Containing the first Marvel Zombies series, the Ultimate Fantastic Four issues where the zombies first appeared, some one-shots, and more.
• Other releases: Avengers: Prelude to Infinity, Essential Thor Vol. 7, Marvel Masterworks: The Mighty Thor Vol. 12, Wolverine Max: Escape to L.A.
Other:
• The Best American Comics 2013: An amazing collection of comics from graphic novels, pamphlet comics, newspapers, magazines, mini-comics, and web comics.
• Diva, Dames and Daredevils: Lost Heroines of Golden Age Comics: Wonder Woman wasn't the only superheroine of the Golden Age — plenty of ladies kicked ass alongside her.
• Adventure Time: Fionna & Cake: When Fionna rescues a flaming prince, she finds trouble in this comic written by Fionna & Cake creator Natasha Allegri.
• Other releases: Airboy: Deadeye, Animal Land Vol. 8, Bloodshot Vol. 3: Harbinger Wars, Blue Angel, Buck Rogers in the 25th Century Vol. 8: 1940-1941, The Complete Crumb Comics Vol. 17: Cave Wimp, The Complete Golden Age Airboy & Valkyrie, Courtney Crumrin Vol. 4, Dingo: Deluxe Edition Vol. 1, Dive in the Vampire Bund Vols. 1 & 2, Dogs of War, Explorer Vol. 2: Lost Islands, Flowers of Evil Vol. 7, Fran, Haganai Vol. 4, Iron Bound, Jack the Ripper: Hell Blade Vol. 5, Jinn Warriors Vol. 2: Fourth Horsemen, Knights of Sidonia Vol. 5, Largo Winch Vol. 4: Hour of the Tiger, Louis Lamour's Law of the Desert Born, Love and Rockets: New Stories Vol. 6, Love in Hell Vol. 1, The Misadventures of Slaem Hyde, Monster Musume Vol. 1, Mushroom Murders, Nancy Drew and the Clue Crew Vol. 3, Negima Omnibus Vol. 8, Ninjago Vol. 8: Destiny of Doom, Pachyderme, The Ohantom Complete Dailies 1944-46, Smurfs Christmas, Tibonum, Uber Enhanced Vol. 1, The Unemployment Adventures of Aqualung, Wallace & Gromit: Newspaper Strips Vol. 1, Walt Disney's Donald Duck Vol. 4: Christmas Bear Mountain, War Brothers, Witch Buster Vol. 3.
---
As usual, here's the list of everything being released to comic stores tomorrow, and you can find your nearest comic retailer here.