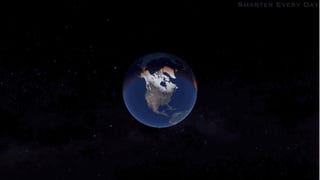 How do astronauts get from Earth to the International Space Station? Well, in a Soyuz spacecraft, of course. But do you know what kind of path the Soyuz takes to rendezvous with humanity's orbital outpost? It's probably not what you think.
On Friday, NASA Astronaut Scott Kelly will launch on a Soyuz spacecraft destined for low-Earth orbit. There, he will spend a year aboard the International Space Station, making his the longest human space mission in NASA's history. In the latest episode of Smarter Every Day, host Destin talks with Kelly about his upcoming flight aboard the Soyuz, the "fancy stick" that astronauts use to reach the buttons in the spaceship's cockpit, and the experiments Kelly will be conducting aboard the ISS. Afterwards, Destin catches up with astronaut Reid Wiseman to talk about the unexpected (albeit surprisingly accessible) orbital mechanics of the Soyuz-ISS rendezvous. It's really, really great stuff:
BONUS: The European Space Agency has an informational video on the Soyuz launch sequence that includes a brief glimpse of the the fancy stick in action. Here it is, immortalized in GIF form: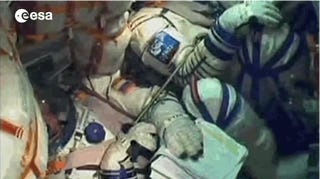 ---
Contact the author at rtgonzalez@io9.com.