We've made a few small changes to the site today, including putting more stories on the front page for you to read. Welcome to the modern age!
There's also a new way to interact with stories in our right sidebar: You can now set the sidebar to a one- or two-paned interface (here's a helpful video from Lifehacker explaining how it works - the same controls are available on io9).
The one-pane interface locks the right sidebar in place so that when you scroll the page, it scrolls along with the page. The two-pane interface (available on Firefox 4, Chrome, and Safari) works just like the previous default: You can scroll the page content and the sidebar content independently, using your mouse's scroll wheel, your laptop's trackpad, or by clicking and dragging the scrollbar itself.
G/O Media may get a commission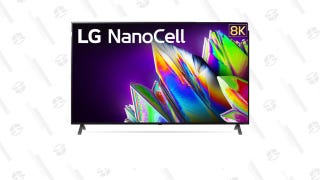 LG 75-Inch 8K TV
Finally, you can still toggle between "blog" view and "top stories" view by clicking the button you see pictured at left.