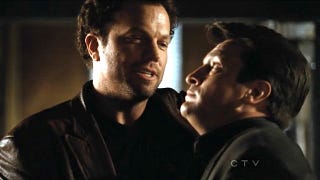 This week marked the long-awaited Firefly reunion between Adam Baldwin and Nathan Fillion. But what about the rest of the crew of the Serenity? Here are some suggestions for cameos that the rest of Firefly's MVPs could make on Nathan Fillion's frequently genre-tastic cop show.
The Adam Baldwin guest spot on Castle was indeed a blast — although many Browncoats were hoping for heaps of fanservice, but the crew at Castle was quite restrained and kept the hat tips to a minimum. This disappointed some, and pleased others.
In any case, we brainstormed and asked io9's commenters to come up with suggestions. And here's our list of ways that other Firefly stars could make an appearance:
Alan Tudyk
Tudyk himself suggested a crossover between Castle and his current show Suburgatory, in an interview with the AV Club. And we'd love to see Fillion head to the 'burbs for an episode or two. Plus Tudyk's brand of banter desperately needs to be showcased in an interrogation room with Castle and Becket! Could be a lot of fun, with a great city mouse, country mouse vibe. However, we are still partial to commenter Trike's suggestion that he should make a short but brutal cameo as a cadaver with a big hole in his chest. Cause of death? Impalement.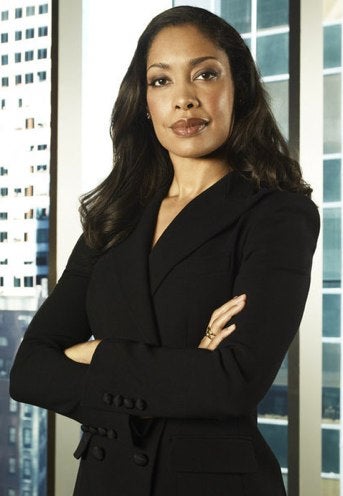 Gina Torres
Murder on a movie set! We know Castle has done the soap opera crime cases, and even brought Hollywood to the precinct (Laura Prepon shadowed Kate Beckett for research on her future role as Nikki Heat). But why not return to Tinsel town? Castle and Beckett are called to investigate a murder on the set of the bombastic robot fighting flick titled Big Damn Heroes. While everyone else is floored by Castle's roguish charm, the no-nonsense producer, played by Gina Torres, is not. She's the disapproving suit.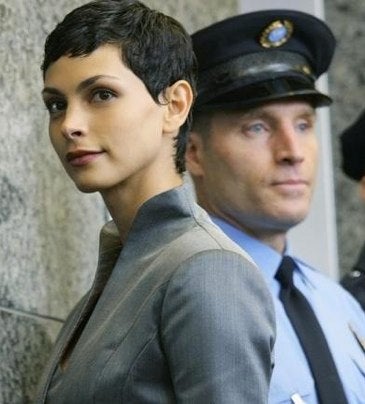 Morena Baccarin
A court-mandated sober companion to a recently deceased rock star, who was spending his twilight years auditioning young women for the role of his future wife on a reality TV program. Think of a button downed, disapproving, and always praying for sobriety Morena, surrounded by the caterwauling ladies desperate for fame.
Summer Glau
Alexis Castle's college roommate. She's majoring in dance, and her creepy dance instructor describes her as "a being of extraordinary grace." Castle disapproves as she's much, much older than she appears — but she insists, "I'm on the 8 year plan!" and appears to have a late night secret that also involves dancing for an audience.
Ron Glass
A quick cameo — shushes Castle at a movie theater when our hero is caught talking. Would also be open to seeing a lengthier appearance as a Televangelist, just to see him preach again.
Jewel Staite
Catwoman-like jewel thief, who's only attracted to things big and, ahem, shiny. Not only would it be fun to watch Staite play a role so opposite the pigtailed Kaylee, but the law on TV is that all lady jewel thieves must wear spandex suits. (We don't make the rules.) Win-win.
David Krumholtz
When Castle's wifi is on the fritz, there's only one person you can call: Mr. Universe. His motto, "You can't stop the signal!" Hell, Krumholtz doesn't even need to be in the same room as Fillion, just give us one ridiculous late-night cable access TV commercial for Mr. Universe.
Christina Hendricks
So lazy, but how could we not do it? A secret ex-wife that Castle didn't even know he had. One blurry night in Vegas, and now she's threatening to take him to the cleaners — or publish her collection of photos from their tawdry night.
Got any better ideas? Put 'em in the comments.