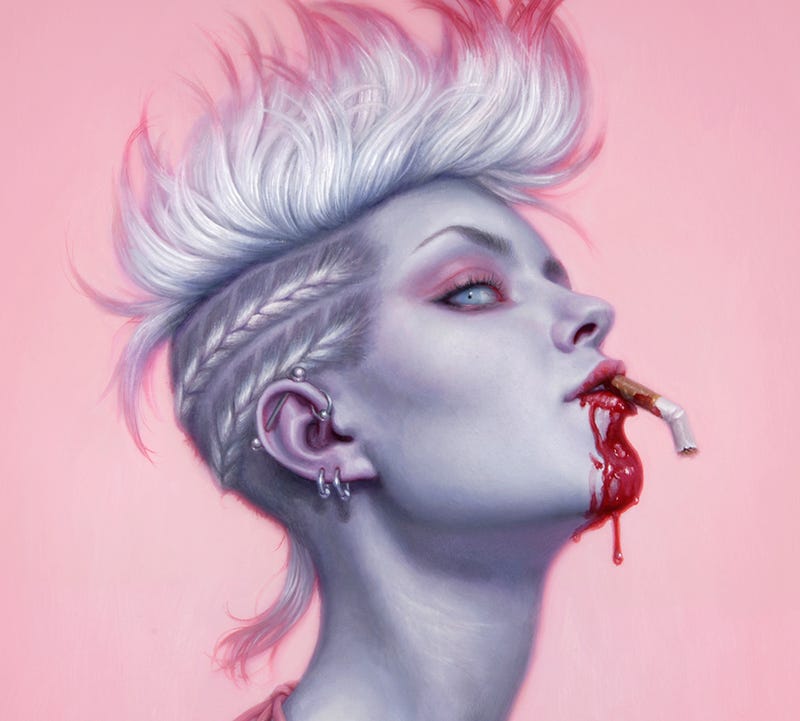 Dan Dos Santos just won a silver medal from this year's Spectrum medals for his cover art for Diana Rowland's My Life as a White Trash Zombie. Over at Muddy Colors, he discusses the evolution of this striking cover.
According to Dos Santos, the crucial thing was that for the cover of this "zombie romance," the cover model had to be sexy. Apparently, another "sexy zombie" cover had gone down in flames recently:
The AD was very particular that I make the heroine an obvious zombie, but still attractive. Apparently, someone had tried something similar not to long prior, and sales were disastrous. Making the cover more sexy than scary was essential. I sat down, and quickly drew my way through every trailer park and pink flamingo cliche I could think of. Nothing worked. But something about the pink stuck with me. I sometimes sketch in color (one of the great benefits of sketching digitally), and the moment I saw the way the dead grey skin would play off the bright feminine pink, I knew I had my cover.
You can see the original sketch and then the various stages Dos Santos went through at Muddy Colors. The last-minute change, to make the eyes a milky blue instead of normal, is a touch of genius. Here's the full image:
[via Muddy Colors]