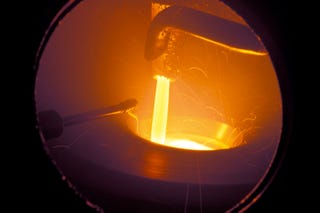 When you see a picture of molten steel pouring out of a faucet into the sink, you might guess it's a piece of art rather than an actual industrial machine. But this image is quite real, and I wouldn't recommend rinsing your hands in that sink. It's a photo from a French factory that manufactures steel tubes for oil and gas lines. Below, we've got more insane steel goo, plus an artist's homage to giant ladles of molten steel.
The image above is of a ferrosilicon factory in Xining, China. Below is a piece of large public art that was on display in Hemlington, England.
Top two images via Patrick Landmann/Getty. Bottom art image via Oobject (where they have a ton of images of molten steel), with thanks to David for the tip.