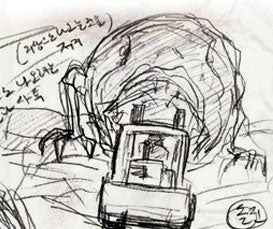 A forklift driver tries to block a monster coming out of the ground in this early concept art from The Host 2, which starts filming this summer. The sequel to the best monster movie in ages will feature multiple monsters, says writer Kang Full. And it sounds as though it'll be even more political than the original. Click through for full image and more details.
I love the look on the forklift operator's face. Says scriptwriter/comics artist Kang:
I wanted to maintain the grace of the original film and to overcome the difficulties and limitations a sequel could have. And I wish to show more action with multiple monsters.
According to the synopsis from production company Chungeorahm, the movie aims a barb squarely at Lee Myung-Bak, South Korea's new president-elect. Not unlike Rudy Giuliani taking credit for cleaning up New York, Lee ran for president based on his record of renovating Cheonggyecheon, a foul-smelling concrete-covered creek running to downtown Seoul. The restored creek is now a major tourist attraction. But environmentalists call the restoration a sham, because the stream's water is piped in.
The Host 2 takes place in 2003, six months before the first movie. Once again, our sympathies are with the regular people. We follow the street vendors displaced by the renovation and the demolition workers and police involved in it. Supposedly a line in the movie actually mentions Lee pushing for the river project so he can run for president. The project disturbs horrible creatures that live underground, and you can guess the rest. Monster pile-on! [Scifi Japan, via MonsterFest]