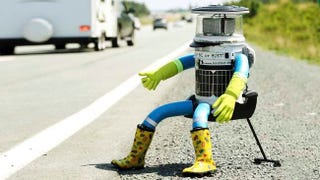 And so it begins: A child-sized robot named hitchBOT is currently making its way across Canada. Alone and immobile, hitchBOT will have to reach the West Coast by relying on others to get it there. Here's how you can follow hitchBOT's adventures.
This past Sunday, a couple from Nova Scotia became the first to give the robot a lift. Its marathon journey between Halifax, N.S., and Victoria, B.C., will see a minimum of 6,158 km (3,826 miles) traversed. But the exact course cannot be known. The bot, which is equipped with voice-recognition technology, 3G, wifi connectivity, and GPS, will be completely dependent on others to move and transport it.
hitchBOT may be alone, but its journey is being closely monitored by social media. You can follow its Twitter feed here, on Facebook here, and on Instagram here.
The project, was created as a "collaborative art project" by researchers David Harris Smith of McMaster University in Hamilton, ON, and Frauke Zeller of Ryerson University in Toronto.
Top image: Reuters/Paul Darrow.