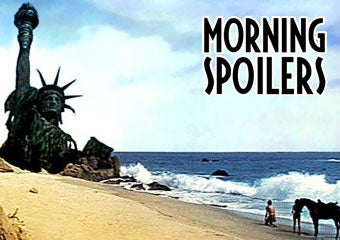 Morning Spoilers
If there's news about upcoming movies and television you're not supposed to know, you'll find it in here.
Chloë Moretz will return as Hit-Girl in Kick-Ass 2, no matter how much taller she gets. See some photos her as a vampire in Let Me In. Plus spoilers for The Hunger Games, Fringe, Chuck, Supernatural, True Blood and more!

Kick-Ass 2:
A new interview with Chloë Moretz finds her discussing what toys and gadgets she wants Hit-Girl to have in the sequel. She also puts to rest any worries she might grow out of the role:
My proposition for Kick-Ass 2, which I told to Jane Goldman and Mark Millar is that Hit-Girl, has to have a purple Ducatti with massive guns! I watched Salt, and Angelina Jolie has a scene on a motorbike, and I was like - "Man, she stole it from me! That was my idea!" But mine will be purple, with machine guns, and a gadget board that pops out... I'd always like to portray Hit-Girl, we're the same age, so Matthew said, whenever we get round to doing it, I can have it whatever age I am.
[IGN]
Let Me In:
Here are a bunch of new posters, along with a new image: [CinemaBlend]
[gallery 5634433]

Bruce vs. Frankenstein:
Cult icon Bruce Campbell says he's working on a sequel to My Name is Bruce, in which he hopes to gather up all the horror legends of the last thirty years in much the same way Sylvester Stallone did with action stars in The Expendables. He admits it's difficult finding time between filming Burning Notice seasons, and the script they've got right now isn't very good, but he's hopefully he can get the likes of Robert Englund and Kane Hodder involved. He even has ideas for their characters:
I want to give them other stuff to do. I want to have Kane Hodder be very particular about what he eats. I want Robert Englund to be a tough guy, like he knows tae kwon do or something. I want to find out the hidden sides of all these people. Some will play themselves, some will play alternate characters as well. I may approach Kane Hodder to play Frankenstein. He could be Kane Hodder himself fighting himself as Frankenstein. It could be crazy.
Transformers 3:
The White House will appear, but not the White House - the DAR Constitution Hall and the Red Cross building will stand in for the White House. Other reported DC locations include the Walter E. Washington Convention Center, the National Mall, and various memorial areas.[Washington Examiner]
The Dark Tower:
Stephen King jokes that the Twilight cast should play his characters. He reveals he wrote Susannah Dean with Angela Bassett in mind, although he trusts Ron Howard to choose the right actors. He also says he would love to voice Blaine the Mono. [Entertainment Weekly]
The Hunger Games:
Sam Mendes, Gary Ross, and David Slade have all previously been reported as contenders to direct the adaptation of the hit young adult novel, but now a few more names have reportedly entered the fray. The new contenders are reportedly Halo commercials director Rupert Sanders, Nanny McPhee Returns director Susanna White, and easily the most high profile name of the three, Chronicles of Narnia director Andrew Adamson. [Deadline]
Fringe:
Here's a new synopsis for the second episode, "The Box":
The story alternates to the Fringe Team "over here" where they investigate a mystifying case that people are discovered in a trance-like state that ultimately leads to their death. The unlikely suspect: a mysterious box. As Peter and Walter collaborate to study its properties, alternate Olivia presses on and turns up the heat on an unsuspecting Peter. Meanwhile, key information about the future is revealed when Walter and Nina meet at Massive Dynamic for the reading of the last will and testament of William Bell.
Joshua Jackson talks a little more about what excites him for season three, and what he thinks audiences will find most compelling about the other side: [Fringe Television]
A bunch of promo pictures for season three are out: [Fringe Television]
[gallery 5634434]

Chuck:
Zachary Levi confirms Chuck's mom, as played by Linda Hamilton, first appears in the season premiere and then returns for episode six. He also says there will still be a certain amount of keeping secrets from Ellie this season, although she'll never be completely in the dark again. [Screen Junkies]
Here are a couple choice excerpts from an interview with writer Rafe Judkins. The first nugget is intriguing, the second is just bizarre:
Who is his fav character to write?

I love to write Sarah/Morgan scenes for some reason. I like seeing two characters who never get scenes together. There's one of these coming in Episode [407] :)

If he can write any scene for Sarah, regardless of context, what would it be?

I have always said that my only desire in life is to see Sarah emerge naked from a muddy lake in Laos with a knife between her teeth. And then kick ridiculous amounts of ass. And as of now, it seems like that scene may actually become a reality!
Here's another short synopsis for the second episode, "Chuck vs. the Suitcase":
Chuck and Sarah go under cover in Milan during Fashion Week to retrieve a high-tech secret weapon; Morgan discovers a fatal flaw that compromises the new Buy More.
True Blood:
The fourth season will reportedly start at pretty much the exact moment the third season ends, with no time having elapsed off-camera. [The Ausiello Files]
Torchwood:
Children of Earth and New World writer John Fay discusses how the writing process is working for the new ten-part, British/American series:
"I knew Jane Espenson's work from Battlestar Galactica, while I was delighted to talk to John Shiban too because Breaking Bad is one of my favorite shows at the moment. They all really know their stuff and that kind of expertise means everyone raises their game. We worked from 9-5 each day to storyline the show, but in much greater detail than I was used to from working in England. For instance in Children of Earth I was in Cardiff for three days with Russell, Julie, James Moran, Euros Lyn and Brian Elsley to work out the episodes from Russell's vision. That was more 'we want it to be kind of like this', a looser structure, whereas in America we beat out every detail of each episode and went one step at a time. It was fascinating to see that approach."
There's a lot more to the interview, including his explanation for why the show needed to kill off Ianto, over at the link. [ScyFiLove]
The Event:
This interview features the production designer explaining the look of the show: [SpoilerTV] Click to view

Supernatural:
Executive producer Sera Gamble previews the big return of Castiel in episode 3: "Let's just say some angels show up that are not so happy. Cas and an angel go through a window at one point, and the result is not pretty. It's a pretty spectacular stunt." [The Ausiello Files]
And here are some set photos from "Live Free or Twihard." [SpoilerTV]


In a desperate attempt to out-ridiculous the "Live Free or Twihard" episode title, the eight episode is reportedly called "All Dogs Go To Heaven." The episode will reportedly involve a skin walker. [SpoilerTV]
Meanwhile, the ninth episode is reportedly entitled "Clap Your Hands If You Believe." [Supernatural Fans Online]
Eureka:
Here's a sneak peek for tonight's midseason finale: [SpoilerTV] Click to view

Haven:
And a sneak peek for tonight's Haven as well: [SpoilerTV] Click to view

The Cape:
The second episode will reportedly be called "Bluebeard." [SpoilerTV]
Additional reporting by Mary Ratliff and Charlie Jane Anders.