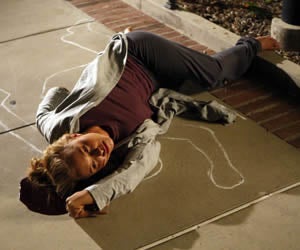 Think that Heroes' "Claire Explores Her Bi-Curious Side" plot is cheap exploitation designed by male writers to titillate a diminishing core of male fanboy viewers? You're only half right. Turns out, the whole thing is star Hayden Panettiere's idea.
Talking to Contact Music, Panettiere explained,
I kinda threw it out there... [The writers] put you in relationships and I was like, 'Can I just be with a girl or something...? Let's do that.' So they took it and ran with it. She's a great girl... and we have a blast.
Given the amount of cheesy "girls just wanna have fun" faux-coy teases she's thrown out while promoting the series, we shouldn't be too surprised that Hayden came up with the idea herself. We're just disappointed that we expected it to be handled in a less over-the-top manner. It is Heroes, after all...
PANETTIERE WANTED LESBIAN STORYLINE IN HEROES [Contact Music]