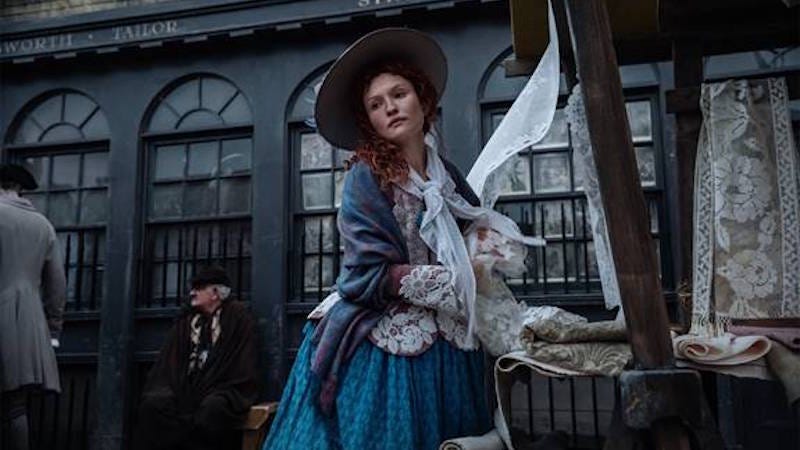 We've known for a while that Emily Browning, who plays Shadow Moon's (Ricky Whittle) semi-devoted wife Laura, would be showing up as another character later in the season. Now we've got our first look at Browning as the young and pretty thief, Essie.

In the book, the character's name is Essie Tregowan and she appears in one of the Coming to America vignettes as a thief sentenced to "transportation" to the Americas as punishment. Her story in the show seems to be pretty much the same, but her name is now Essie MacGowan.
This double-casting does something that, in a book, would be much more labored. It's hard to convey that two characters look almost identical without belaboring the point. However, the visual in TV and movies is a well-established way of conveying either a genetic relationship or a thematic one. It's not a huge leap to connect Essie—a thief who turns every setback into a win—to Laura's ambition and desire to have more than she is handed.

Watch the clip and enjoy the rendition of "Runaround Sue" that scores it:
In a past interview with io9, Neil Gaiman pointed to Essie Tregowan/MacGowan's Coming to America vignette as a test balloon for something they want to repeat in season two. "We did one long [Coming to America] as an experiment. Originally we'd just done them like five, eight minutes long." Essie's story will take up half an episode, intercutting with the main plot. "So Bryan [Fuller] is now going we could do more of these big ones," Gaiman said.

There's a lot of experimenting in this: the double-casting and the longer Coming to America. We'll see how well both work this Sunday.