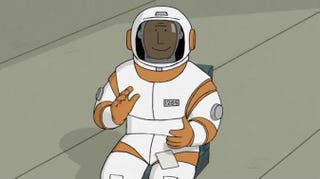 Some of the coolest movies ever made are short animated features. In a shorter film, without the constraints of live-action, you can let your imagination run wild. That's why it's totally worth giving your support to the Animation Show of Shows Kickstarter campaign, which ends in 11 hours.
Film archivist and animation buff Ron Diamond is seeking money to preserve and restore classic animated shorts — including the 1963 classic The Hangman. He also wants to keep doing his show, in which he shows off great animated short films to audiences (including an upcoming event at San Diego Comic Con). And he wants to do profiles of animation creators. And finally, he wants the resources to bring truly great animated short films to audiences on the big screen.
Writes Diamond, "It pains me to think that without my program many of these films would rarely get seen outside of festivals. These are films you don't often see because it's difficult for the big distributors to package and market them."
Check out his Kickstarter video below, and support this campaign if you can.
---
Contact the author at charliejane@io9.com.