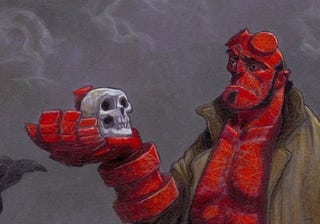 "Suffer the slings and arrows of outrageous fortune"? Yeah, that sounds about right.
And before anyone can say it in the comments: Yes. I know that quote's from a different part of the play. But A) It doesn't really apply and B) I didn't memorize that one as part of a project in high school English.
This bit of art's by Miguelanxo Prado, and we would totally watch this play. It wouldn't even be the weirdest version of Hamlet we've seen. The full piece is below. All that's missing is one of the other BPRD agents as Horatio.
---
[via xombieDIRGE]