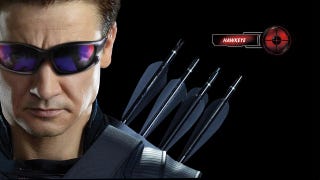 A member of The Avengers feels left out! Hawkeye (played by Jeremy Renner) is not thrilled that he spent most of his screen time in The Avengers as a mindless, bow-wielding goon for Loki. The actor told the LA Times that he spent 90% of the movie as a character he didn't sign on to play. When asked if he preferred playing Evil Hawkeye or Good Hawkeye, Renner responded:
I prefer the good, because if we go to the evil part, or hypnotized or whatever the heck you want to call it, it's kind of a vacancy. Not even a bad guy, because there's not really a consciousness to him. The interesting part was being guilty about the bad things I did do when I was hypnotized. I think he's already an interesting enough character. To really kind of take away who that character is and just have him be this sort of robot, essentially, and have him be this minion for evil that Loki uses. Again, I could just focus on the task. I was limited, you know what I mean? I was a terminator in a way. So yeah, fun stunts. But is there any sort of emotional content or thought process? No. That doesn't exist in that time [that he's hypnotized]. It happens to be for most of the movie.
The Times followed up by asking if Renner was disappointed by his experience. The actor retorted, "You know, there are a lot of people in that movie. And a lot of important characters. And my character, I felt like if I can help serve story, then I did my job."
We would argue some of the best character-meat just waiting to be sliced open is his relationship with Black Widow (a bond that was one of director Joss Whedon's big time soft spots in the movie). Fingers crossed it's fleshed out in the sequel.
[Via CinemaBlend]