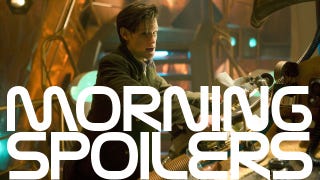 Morning Spoilers
If there's news about upcoming movies and television you're not supposed to know, you'll find it in here.
It looks as though Doctor Who could be signing up a new companion next fall. Executive producer Steven Moffat may just have pointed us towards her - and it's someone we've seen before on the show!
Joss Whedon reveals just why The Avengers revolves around Captain America.
The Star Trek sequel begins production, and the main cast is all confirmed.
The Hobbit searches for the right audience, and Prometheus shoots for an epic scope.
The Fantastic Four reboot may have found an up-and-coming director to take on the project.
Plus key updates on the futures of Supernatural, American Horror Story, Game of Thrones, The Walking Dead, Warehouse 13!
Spoilers from here on out!
Top image from Doctor Who.
The Avengers
Director Joss Whedon talks some more about why the film is told from the perspective of Chris Evans' Captain America:
"[The Avengers] is very much about people who are alone - because I'm writing it. [Captain America] is kind of the ultimate loner in that way. There is an anachronism to him, and Chris and I have always tried to, without making it goofy or too obvious, make him that same grounded '40s Steve Rogers he was in the other movie."
That said, Whedon stresses this is still an ensemble movie, and he gives this take on the movie's basic ideas:
"You get them in a world, the world of S.H.I.E.L.D., where they fit in. And you say upfront, these are monsters. These are freaks. These are not you and me, and what are they doing here? How are they human beings? Let's just investigate that."
[EW]
---
Star Trek 2
Director J.J. Abrams and company have officially begun production on the sequel, according to Paramount Pictures. Their announcement doesn't include any plot details, but it does confirm the return of Bruce Greenwood as Christopher Pike along with the entire Enterprise crew, and it confirms Benedict Cumberbatch, Alice Eve, and Peter Weller as the main supporting players. [Coming Soon]
---
Prometheus
Writer Damon Lindelof explains the attempt by director Ridley Scott to create a truly epic scale:
"The movie is definitely epic in its scope. One of the filmmakers that we ended up talking about to a fair degree of redundancy was David Lean, who directed 'Lawrence of Arabia.' We wanted to make the movie feel big by having the characters be small in big spaces. That connected to the larger themes we were talking about - that we're all just these little gnats crawling around on our little planet."
And here's a promo photo. [Hero Complex]
---
The Hobbit
Producer and co-writer Philippa Boyens explains some of the difficulties in translating the novel to the screen, particularly in terms of their previous work on The Lord of the Rings:
"The story is very much a children's story so deciding how to tell this was one of the first things we had to do. Who is the audience? It is very distinctly different, tonally, to 'Lord of the Rings' until the very end and then you begin to see the world of Middle-earth opening up… but, having said that, we felt that it is the same audience [who will come to see the films] and then you start to worry because it is easy to repeat yourself. It is quite a similar journey, you're going from the Shire to a large, dangerous mountain."
And here's a new photo of Martin Freeman as Bilbo Baggins with his sword Sting. [Hero Complex]
---
Fantastic Four
Josh Trank, the director of the upcoming found footage superhero movie Chronicle, is reportedly the top choice to direct the new Fantastic Four reboot, and he will reportedly be given an official offer in a few weeks, assuming Chronicle does well in theaters. [Variety]
---
Deadpool
While speaking on a panel at the Amazing Arizona Comic Con, Deadpool co-creator Rob Liefeld revealed eight minutes of test footage have been shot without technically revealing anything:
"They've got a great director [Tim Miller] on the movie, they've got a great script. I may or may have not seen some sort of test of footage that would blow your mind if you saw it and go holy crap and that's Deadpool in costume. Katana swords, guns, shooting people's faces off and making me laugh. And I may or may not have seen something that looks just like that. And you've got what would amount to the first R Rated X-Men movie. Because that script is R Rated. They may or may not have wanted to shoot eight minutes to see how it would play. And all I can tell you, it's close. It's closer that it's even been to going, or going Naaah, that's too scary a proposition to make a R Rated Deadpool movie."
Obviously, Liefeld didn't specify whether this hypothetical test footage involved star Ryan Reynolds, and if Deadpool was indeed in his traditional comics costume Reynolds's physical presence wouldn't have been required. Anyway, this seems like it's reasonably likely to be true, but without an official confirmation it's best to reserve at least a bit of skepticism about this. [Bleeding Cool]
---
Skyfall
Here's a photo of Daniel Craig sitting by a pool, which for some reason is the first official image for the next James Bond movie. Your guess is as good as mine on this one. [/Film]
---
Byzantium
Quantum of Solace actress Gemma Arterton discusses her role as Clara, the mother vampire to Saoirse Ronan's daughter in Neil Jordan's new movie:
"She's brittle and she's a fighter. There's blood and vampires and all of that, but we focus on the mother-daughter relationship."
Arterton also says she will be using "an exagerrated version of her Kent-Thames estuary accent", because the character is "'from the hood.'" [The Daily Mail]
The Tudors star Johnny Lee Miller and In the Loop's Tom Hollander have reportedly joined the movie. [Fangoria]
---
M.S. One: Maximum Security
Here's a behind-the-scenes video for the space prison breakout movie, starring Memento's Guy Pearce and Lost's Maggie Grace. [First Showing]

---
The Woman in Black
Here's a vintage poster for the Daniel Radcliffe starring supernatural horror movie. You can also check out a behind-the-scenes video here. [Den of Geek]
---
Doctor Who
This may all just be Steven Moffat trolling the internet, but the Doctor Who showrunner tweeted that people should follow Sophia Myles's Twitter feed, and that he would explain later. Myles, who played Madame de Pompadour in Moffat's second series episode "The Girl in the Fireplace", put out a couple cryptic tweets, but no further information is forthcoming. This has led to speculation - as it always does in Doctor Who fandom — that Myles might be the next companion, or at least she might appear in the next series. I'm a bit more skeptical, but honestly this one is pretty hard to read. [Zap2It]
Karen Gillan confirmed again that her departure from the role has already been decided, but that her final appearances will comprise "a few episodes... a few really good episodes." [Hitfix]
---
Fringe
Here's a promo and sneak peek at next week's episode, "Enemy of My Enemy."

---
Game of Thrones
HBO has announced the second season premiere date for April 1. [EW]
---
The Walking Dead
Here's a poster for the second half of the season, which kicks off February 12. [ShockTillYouDrop]
AMC has increased their season three episode order by three episodes, bringing it to a total of sixteen episodes. [EW]
---
Chuck
Here's a promo for next Friday's episode, "Chuck vs. the Bullet Train."

And here are some promo photos. You can also check out the official description below.
A MISSION ABOARD A JAPANESE BULLET TRAIN SPIRALS OUT OF CONTROL, PUTTING THOSE CLOSEST TO CARMICHAEL INDUSTRIES IN DANGER – ANGUS MACFADYEN GUEST STARS - When a mission in Japan becomes a hostage situation, Sarah (Yvonne Strahovski) and Chuck (Zachary Levi) must face the merciless Nicholas Quinn (guest star Angus Macfadyen, "Braveheart") aboard a speeding Japanese bullet train. Meanwhile, the mission leaves Casey with an impossible decision. Joshua Gomez, Sarah Lancaster, Ryan McPartlin, Scott Krinsky, Vik Sahay and Mark Christopher Lawrence.
Here are the official descriptions for the two parts of the two-hour finale, "Chuck vs. Sarah" and "Chuck vs. the Goodbye", which both air January 27:
Episode 5.12 – CHUCK VERSUS SARAH
SARAH MUST KEEP A SECRET FROM CHUCK IN ORDER TO ACCOMPLISH A MISSION - ANGUS MACFADYEN GUEST STARS AS 'NICHOLAS QUINN' - After a harrowing mission, Sarah (Yvonne Strahovski) returns to Chuck (Zachary Levi) with a huge secret. Meanwhile, Ellie (Sarah Lancaster) and Awesome (Ryan McPartlin) are presented with a new opportunity that could change their lives. Adam Baldwin and Joshua Gomez also star.

Episode 5.13 – CHUCK VERSUS THE GOODBYE
CHUCK'S FINAL MISSION BRINGS HIM BACK TO HIS ROOTS AS HE FIGHTS TO SAVE HIS FUTURE – ANGUS MACFADYEN AND LINDA HAMILTON GUEST STAR - Chuck (Zachary Levi) enlists his family, friend and some unexpected allies as he races to stop Nicholas Quinn (guest star Angus Macfadyen, "Braveheart") from destroying everything Chuck has built over the past five years. Yvonne Strahovski, Joshua Gomez, Adam Baldwin, Sarah Lancaster, Scott Krinsky, Vik Sahay and Mark Christopher Lawrence also star.
---
Grimm
Here's a promo for the next episode, "Of Mouse and Man."

---
Supernatural
Here's a promo for the next episode, "The Slice Girls."

Executive producer Robert Singer promises Bobby will be back "in one form or another", and he also reveals some clues about Castiel's more imminent return:
"It happens by a sure twist of fate and the Cas that they find is not exactly the Cas that left them. We usually will end [the season] with some sort of a cliffhanger, which will inform the next year. And then we may get into a room and say, 'OK, we've painted ourselves into this corner, now how do we paint ourselves out?'"
Star Jared Padalecki also promises Bobby will return:
"Yes, he is [coming back]. I don't know how, but he is. He's not going to come back as Bobby in the classic, 'Hey, I'm Uncle Bobby and I drink too much and I'm kind of curmudgeonly,' but he's going to come back in some way, shape, or form."
He promises another character's return as well:
"We'll see the return of Mark Pellegrino as Lucifer, he's going to be tormenting me. I've been seeing visions all season long, and now we're going to see what those visions are. Sam's been fighting them by himself, but now we're going to see them tangibly. We're going to see Sam break."
While Robert Singer teases the rest of the season:
"The last run of shows is very Leviathan heavy. And Sam will need a lot of help - Sam goes wackoidal in episode 17, and Dean has to bring him back from the brink of insanity. Some old friends show up to help him with that. That's as much as I'll tease!"
[EW]
---
American Horror Story
The FX panel at the Television Critics Association press tour reportedly revealed two to three actors from the first season will return for the second, which will feature a completely different premise and story. These actors, however, will play all-new characters. That said, I doubt this precludes Jessica Lange coming back as her season one character Constance, assuming FX can work that out. [ShockTillYouDrop]
---
Warehouse 13
Syfy has reportedly increased the episode order for the fourth season from thirteen to twenty episodes. [EW]
---
Being Human (US)
Here's a sneak peek at tonight's second season premiere, "Turn This Mother Out."

---
Lost Girl
Here are two promos for tonight's Syfy premiere of the Canadian import. [TV Guide]

---
The Vampire Diaries
Cassidy Freeman, who played Tess Mercer on Smallville, will reportedly appear in episode 16 as Sage, "a character seen in 1920s flashbacks [whose] allure is felt by both the Salvatore brothers and the Original family." The character could become a recurring role. [TV Guide]
---
The Secret Circle
Joe Lando, who is probably best known (using the phrase loosely) as Bryon Sully on Dr. Quinn, Medicine Woman, will reportedly appear in episode fifteen as Cassie's father John Blackwell, "a commanding, enigmatic and powerful witch with many enemies" who comes back to Chance Harbor claiming he has reformed and now just wants to keep Cassie safe. [TV Guide]
---
Additional reporting by Marykate Jasper and Charlie Jane Anders.