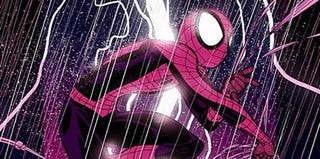 Once the Ultimatum Wave has finished its tear, the Ultimate Universe as we know it will cease to exist. Marvel's Joe Quesada explains what's next for Ultimates and announces a new pair of Halo series.
The major announcements at the Cup o' Joe panel, when Marvel Editor-in-Chief Joe Quesada answers fan questions, deal with Marvel's Ultimate Universe. When Ultimatum comes to a close, Marvel will be ending the Ultimate Marvel line and has announced one-shot Requiem books for Ultimate X-Men, written by Heroes' Aron Coleite, Ultimate Final Four, written by Heroes' Joe Pokaski, and a two-part Requiem story for Ultimate Spider-Man, written by Brian Bendis. Look for the first Ultimate Spider-Man Requiem in May, and the final three Requiem books in June.
Ultimate fans need not despair, though. Quesada announced that the Ultimate stories will continue in Ultimate Comics, a new line to be launched in July. Brian Bendis is on Ultimate Comics Spider-Man, with art by David LaFuente. Bendis promises that the series will trace the events following Ultimatum and, though it won't be a reboot, it does feature a new cast of characters, and we may see someone new in the Spidey suit.
Also on deck for Marvel is pair of limited run series based on Halo the video game franchise about cybernetic soldiers battling a theocratic alien empire. The panel revealed few details about the series, but announced that the first five-issue series, written by Peter David with art by Eric Nguyen, will launch this summer, and the second series Halo: Spartan Black launches this winter, written by Fred Van Lente with art by Francis Portela.