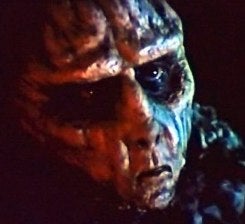 Memento star Guy Pearce is joining Guillermo del Toro's translation of the goblins-in-the-closet movie Don't Be Afraid Of The Dark.
GDT rewrote the original 1970s horror film, so you can bet the little baddies are going to do a lot more than whisper in Katie Holmes' ear and leave shadowy figures against the wall. The film is being directed by Troy Nixey, and Homes has already been cast to play the unfortunate Sally Farnhammonth, who unleashes the little demons into the family's life.
The original film follows a couple who inherit an old mansion with a tiny sealed door. After nights of whispers and creepy disturbances, Sally opens the door, even though she was warned against it by the creepy old caretaker.
Opening the tiny door unleashes Hell on the family, in the form of these tiny demon creatures, who are more harmful than they look — especially with GDT's rewrites, I'm sure. In the updated version, it's Pearce's daughter who unleashes Hell from the locked door in a house she shares with her father and his girlfriend, played by Holmes. Pearce refuses to believe their tales of demonic torture, most likely until it's too late. Production will begin next month, and it should be interesting to see what GDT's "protege" Troy Nixey can do.