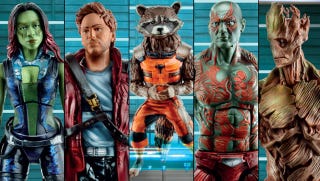 Hasbro has revealed their next set of Marvel movie toys — giving us a nice close look at the heroes of Marvel's upcoming movie Guardians of the Galaxy.
You've seen the test footage of Rocket Raccoon and Groot, now take a look at the toy line, which actually looks pretty bananas detailed. Even Gamora's pink ombred alien hair is visible to the eye. But look at Rocket's face, he looks like he's going to cry. Hug me, furry baby!
See a full body shot of each figure over at Yahoo.