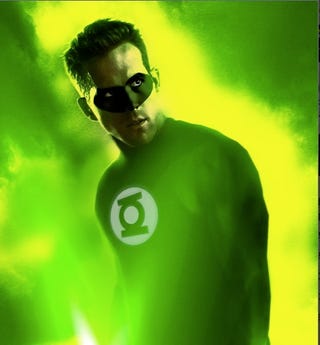 While the cast of Green Lantern, besides Ryan Reynolds, is being kept under lock and key, a few startling crew announcements have raised our hopes exceptionally high for this film. These new additions could make GL your new favorite superhero.
Superhero Hype has the latest news about Martin Campbell's, from Casino Royale, Green Lantern.
The entire thing will be shot by cinematographer Dion Beebe, who not only shot the amazing-looking Equilibrium, but won an Academy Award for Memoirs of a Geisha.
He'll be working with production designer Grant Major, who worked on The Ruins and King Kong and took home an Oscar for his work on Lord of The Rings. And costume designer Ngila Dickson, who also received an Academy Award for LOTR.
And finally Art Director François Audouy who helped bring the gorgeous scenes from Watchmen to life, is joining the crew. So it seems that Warner Brothers isn't screwing around with this picture, and is investing big money for big turn out. Gone are any campy expectations we had for this film, we're now expecting something much more epic.
Also, our insider sources tell us that production is readying in New Orleans, and should be expecting up to a thousand construction workers for sets and special effects at peak production. Rumors on the internet would lead us to believe that filming would then start in March, ending in either July of August 2010.
Geek Tyrant" />