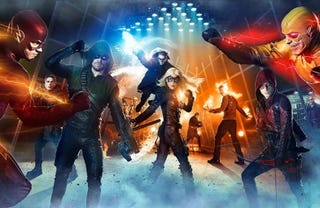 My one worry about The CW's third DC TV show, Legends of Tomorrow, was that it would steal great characters like the Atom and Captain Cold away from their original series. Happily, Flash star Grant Gustin has revealed that some of Legends' stars will be appearing on all three DC TV series.
In an interview with Buzzfeed, Flash star Grant Gustin explained that Arrow, Legends of Tomorrow and his series are "all one show, in some ways."
Like, I'm on Flash, but as far as a lot of those other characters are concerned, they're just on three TV shows at one time, which is really cool. Wentworth [Miller, who plays Captain Cold] and Dominic [Purcell, who plays Heat Wave] are on Legends, but they'll be on Arrow and Flash, too. It's like a revolving door for all three shows.
Seeing as Gustin talks about how exhausting it was for him to star on The Flash and make guest appearances in Arrow, I'm not sure how Miller, Purcell and the other heroes and villains who could be showing up in all three series might feel about this. However, as far as I'm concerned, the more Captain Cold we get on TV the better. Thank you for suffering for my entertainment pleasure, gents!
So my next question is, could showrunner Greg Berlanti's Supergirl series, debuting this fall on CBS, also somehow become part of Arrow-Flash-Legends-iverse? There have been no announcements as of yet. However, as this recent Variety photo shoot indicates, Gustin's Flash and Melissa Benoist's Supergirl look pretty damn good together, don't you think?
[Via Comic Book Resources]
---
Contact the author at rob@io9.com.