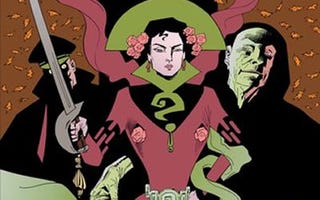 Ever wanted the chance to ask famous comic writer - not to mention wizard and sock-worshipper - Alan Moore a question? Now you have the chance, thanks to a comic book store and the internet.
The blog of the Forbidden Planet family of stores is offering fans the chance to email in questions for inclusion in an upcoming interview with Moore to support the release of the latest League of Extraordinary Gentlemen book, Century 1910. Interviewer Pádraig Ó Méalóid explains:
In March, before the publication of League of Extraordinary Gentlemen: Century 1910, I'll be doing another interview with Alan Moore, once again to appear on the FPI Blog. As well as talking to him about Century 1910 and other forthcoming work, he has agreed to a suggestion I made, which is that I should ask for questions from the general public. So, if you've any questions you've been burning to ask Alan, either comment here, where I'll see them, or send them to me directly at pomealoid[at]yahoo[dot]com.

I should point out that, while I'll do my best to ask Alan as many questions as I can from what I receive, I do reserve the absolute right to not ask something if I so choose.
Sadly, that means that any questions like "So, seriously, this Watchmen lawsuit is all your doing, right?" are probably out, but it still leaves a wide and impressive career - and equally fantastic life - left to talk about.
Ask Alan [Forbidden Planet]