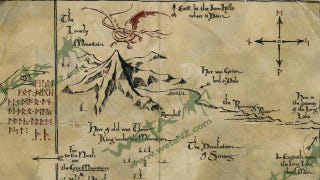 Plot out the journey of the dwarves and the halfling, with these brand new Weta official Hobbit maps. Plus dwarf weapons, swords, daggers and axes. No sign of a sting prop replica yet — but we can wait.
Also check out the tiny drawing of a possible Smaug hidden in the map near Lonely Mountain.
The Hobbit will open on December 14th.
[Via Comic Book Movie]