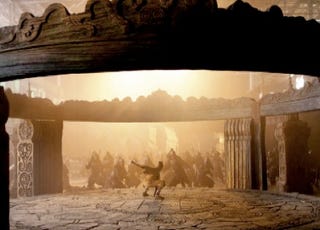 Now that we've gotten to know Avatar, it's finally time to rediscover Avatar: The Last Airbender, the live-action version. Here's a brand new look at the bald bad-ass Aang, getting his airbending on.
Empire Magazine released a few new stills from The Last Airbender, some even with completed FX, looking golden. Slashfilm managed to get their hands on a few scans from the issue and here's the Aang money shot — he looks both tiny and deadly, perched a top a tiny piece of wood.
Check out Slashfilm to see the additional images from the magazine. The Last Airbender will be out July 2, 2010.