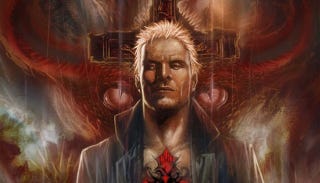 It's a royal rumble of destructive deities this week! We have demons and the Devil running amuck in John Carpenter's Asylum! Someone is straight-up murdering gods in Thor! The Elder Gods awake from their nap (and bath) in Scott Snyder's The Wake! Check out all this and plenty of secular action in this week's comics!
---
New Issues
Dark Horse:
• The Last of Us: American Dreams #2: The prequel series to the upcoming post-apocalyptic survival videogame from Naughty Dog continues as Ellie finally ventures outside.
• King Conan: Hour of the Dragon #1: The rule of Conan is in trouble when the resurrected sorcerer Xaltotun returns with vengeance on his mind. This adapts the only full-length Conan novel Robert E. Howard ever wrote.
• Other releases: Amala's Blade #2, Angel & Faith #22, B.P.R.D.: Vampire #3, Dragon Age: Until We Sleep #3.
DC:
• The Wake #1: Batman's Scott Snyder and Punk Rock Jesus' Sean Murphy write this scif/horror tale about a marine biologist who is whisked away to an undersea oil rig that has discovered something incredible as it is terrifying.
• Earth 2 Annual #1: The debut of the new Batman of Earth 2.
• Injustice: Gods Among Us #5: Batman prepares to fight Superman, even though one of his own protégés has joined the Man of Steel.
• Other releases: Adventures of Superman #1, Batman: The Dark Knight Annual #1, Catwoman Annual #1, Justice League of America #4, Red Hood and the Outlaws Annual #1, Smallville Season 11 Special #1.
IDW:
• Kill Shakespeare: Tide of Blood #4: "Prospero unleashes his books of power in order to destroy Shakespeare while Juliet, Hamlet and Othello must survive a bloodthirsty Romeo, under the thrall of Lady Macbeth." Awesome.
• Transformers: Beast Hunters #1: After being abandoned during the war of Cybertron thousands of years ago, the Dinobots return — but are they friend or foe?
• Other releases: Danger Girl Trinity #2, Doctor Who: The Prisoners of Time #5, G.I. Joe #4, Godzilla #12, Jericho Season 4 #3, Jinnrise #5, My Little Pony Micro-series: Fluttershy #4, Popeye Classics #10, Star Trek #21, TMNT #22, Transformers: More Than Meets the Eye #17.
Image:
• Morning Glories #27: "Season 2" begins in a special double-sized issue.
• All New Secret Skullkickers #1: The "unbooted" series gets renumbered and new adjectives, but remains just as packed with action as ever.
• Other releases: Chew #34, Clone #7, East of West #2, Elephant Men #48, Five Weapons #4, Lost Vegas #3, Mind the Gap #10, Thief of Thieves #14.
Marvel:
• X-Men #1: The women of X-Men finally get their own title, and… it's called X-Men for some reason. Sigh.
• New Avengers #6: The Illunimati are back to their old tricks as secret alliances are again formed inside the Avengers.
• Indestructible Hulk #8: Hulk and Thor are the only thing standing in the way of the Frost Giants' invasion of earth.
• Other releases: Avenging Spider-Man #21, Captain America #7, Dark Avengers #100, Fury Max #12, Gambit #13, Iron Man #258.4, Morbius the Living Vampire #5, Savage Wolverine #5, Uncanny X-Force #5, Venom #35, Wolverine and the X-Men #30.
Other:
• John Carpenter's Asylum #1: A disillusioned priest in Los Angeles battles the demons and devils he can see, while angry because he never sees angels or God.
• Clive Barker's Next Testament #1: The master of horror writes his first all original comic! A bitter company man meets a mysterious god and they set out to change the world.
• Other releases: Adventure Time Annual #1, Archie #644, Crossed Badlands #29, Dead Man's Run #5, Deathmatch #6, Executive Assistant Assassins #11, Futurama #67, Grimm Fairy Tales #85, Grimm Fairy Tales: Realm Knights, Grimm Fairy Tales: Wonderland #11, Grimm Fairy Tales: Wonderland: Down the Rabbit Hole #1, Jennifer Blood: First Blood #5, Pirate Eye, Princeless Vol. 2 #3, Red Sonja #76, The Shadow: Year One #3, Sonic the Hedgehog #249, Tarot: Witch of the Black Rose #80, Westwood Witches #1.
---
Trade Paperbacks and Hardcovers
Dark Horse:
• Star Wars Omnibus: Wild Space Vol. 1: The weirdest Star Wars tales of all time are collected in one volume, including Alan Moore's UK comics, Star Wars 3-D, some cereal pack-ins, and more!
DC:
• Absolute Top Ten: The Eisner-winning tales of the superheroic cops of Neopolis' Precinct 10, as written by Alan Moore.
• Lucifer Vol. 1: After abandoning the underworld for L.A., God has a special mission for the former ruler of hell.
• Other releases: Batman: Noir (hardcover), The Phantom Stranger Vol. 1: A Stranger Among Us, Superboy Vol. 2: Extraction, Watchmen: The Deluxe Edition (hardcover).
IDW:
• Star Trek Classics Vol. 4: Beginnings: The earliest adventures of Picard and the Next Generation crew are explored.
• Other releases: Flash Gordon and Jungle Jim Vol. 3, G.I. Joe: Field Manual, Transformers IDW Collection Vol. 8, True Blue Vol. 5: Shake for Me.
Image:
• Clone Vol. 1: A man opens to discover his clone, beaten and bloodied, with the grave news that many, many other clones are after his pregnant wife in this scifi story by Robert Kirkman.
• Elephantmen Revised & Expanded Vol. 1: A new version of the age-old tale of anthropomorphic elephants turned soldiers trying to fit into human society after the war.
Marvel:
• Superior Spider-Man Vol. 1: My Own Worst Enemy: With his mind firmly implanted in his foe Peter Parker's body, Dr. Octopus is determined to be a better hero — and he'll need to be to survive the new Sinister Six.
• Punisher: Enter the War Zone: Frank Castle takes on the mighty Avengers, one by one.
• Thor Vol. 1: God Butcher: Thor tracks down a serial killer of the gods themselves!
• Other releases: All New X-Men Vol. 2: Here to Stay, Avengers: The Complete Geoff Johns Collection Vol. 1, Captain Universe: The Hero That Could Be You, Deadpool Vol. 1: Dead Presidents, Doctor Strange: Oath, Marvel Noir: Spider-Man/Punisher, Spider-Man 2099 Vol. 1, Ultimate X-Men Vol. 1.
Other:
• Clockwerx: 1897 is about to be torn apart by a secret Steampunk civil war.
• The Resurrectionist: The Lost Work of Dr. Spenser Black: Dr. Black knew the truth — that mythological creature were in fact our evolutionary ancestors. This he created The Codex Extinct Animalia, a Gray's Anatomy for mythological beasts.
• Other releases: Astronaut Academy: Re-Entry, Breather, Cade of Eden Vol. 10, Cat on a Hot Tin Groove, Dark Shadow/Vampirella, Ghost in the Shell: Stand Alone Complex Vol. 4, Good Dog, The Green Hornet Vol. 5: Outcast, Journalism, Limit Vol. 5, Mere, Obituary Man, Odd Duck, , Sailor Moon Vol. 11, Tales of the Buddha: Before He Was Enlightened, Tommysaurus Rex Vol. 1, Witchblade: The Demon Reborn.
---
As usual, here's the list of everything being released to comic stores tomorrow, and you can find your nearest comic retailer here.